Wyatt Sharpe: Wood Whittler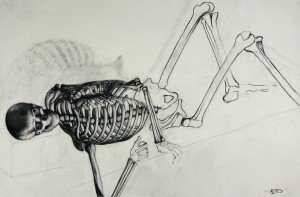 Wyatt Sharpe '13 is currently carving an abstract 3-D piece from wood and preparing for an exhibition at the end of the term with Topics Tutorial classmates Marina Hansen and Tatum McInerney '13.
Although this is his first sculpture at Deerfield, he has previous experience in woodcarving. His favorite work so far is a table he made.
"There's a famous artist, George Nakishima," he said. "I'm a really big fan of his furniture. The beauty of his furniture is the wood–the cracks, the contour of the perimeter, the grain. I did something of his style."
Although Deerfield was the first place he studied art formally, Sharpe enjoyed sketching in his free time in middle school. "I always liked to tinker and make things with my hands," he said.
Studio Art Teacher David Dickinson described Sharpe as an "energetic, thoughtful and independent" artist.
"He does a lot of thinking about the imagery he is trying to produce," Dickinson said. "He is willing to push the envelope on his imagery. He is willing to take some visual risks. As a result, his work is often unique and creative."
"The most challenging thing about art is being patient with it and knowing when to stop and not overwork a piece," Sharpe said. He explained that spending too much time on a piece of work can often lead to negative effects on the quality of the work.
Though Sharpe hopes to pursue a career in biology or engineering, he says that science and visual art have a lot in common, especially problem-solving.
"Art is a good meditative exercise," he said. "You can go into the art studio and work for as long as you want. You can also see the results really quickly. You can see your progress visually."