Wrestling with Turkish Delight: A Post-Season Reflection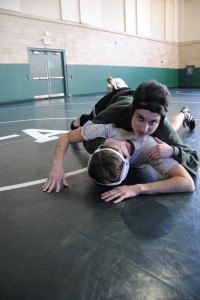 One sophomore girl blazed a new trail in campus sports this winter when she chose wrestling as her co-curricular.
With the season now winding down and only a few practices left, Asu Bilirgen '15 elaborated on her experience.
"For me, this year was about building up my skills and getting used to the techniques that are associated with wrestling rather than winning, but I hope that next year will be a more fruitful year," she said.
She added that the team accepted her as a female athlete "right away." "I wouldn't expect any less from a Deerfield team," she said. "I made sacrifices for the team and it made sacrifices for me. We are all working together to build up the wrestling program here at DA. As a team, we are all part of something bigger than ourselves. Although we might not be the best team yet, everyone is dedicated and working toward the future. If anything, this team has increased my school spirit, and I am proud to be a Deerfield wrestler."
When asked if she had any gender-related issues and how opponents treated her, Bilirgen said, "I think what people fail to realize is that when someone signs up for wrestling, he or she signs up for wrestling. So whether it is a girl or boy who appears in front of a challenger, the person will wrestle with the same rigor because they want to win. I have had no gender-related problems this season and do not anticipate any next season. My opponents have treated me the same way they treated everyone else, like a competitor."
Bilirgen would like to stress that the Deerfield wrestling program is in a stage of rebuilding. Bilirgen mentioned on a few occasions that the team is building a "foundation for the future." She also said the amount of dedication and perseverance its members have shown is unlike anything she has ever seen.
"The most difficult part of wrestling is going out onto the mat, especially if there is a good chance that you are going to lose," she said. "Everyone on our team put their heart and soul onto the mat because they represented Deerfield and something bigger than themselves."
Bilirgen also described the personal growth she experienced this term. "As an individual, I am proud of the self-control I developed. Wrestling taught me how to push myself athletically and mentally—if I can push myself to sprint harder I can also push myself to complete one more homework assignment at night. I learned how to push myself to get my work done earlier and go to sleep earlier so I'd have energy for the matches or practice the next day," she said.
Bilirgen has an optimistic outlook about her future wrestling career. "I have really enjoyed this season in every way," she said. "It has definitely been very difficult but worthwhile. I have no regrets in joining the team. I would also do it again—so watch out for me next winter."