School Spirit Defines Deerfield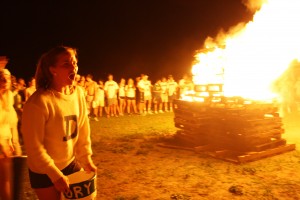 Tradition can be defined as a custom or belief that is passed on from generation to generation. I believe that tradition is anything we do from year to year or day after day at Deerfield.
Rubbing the nose of the Deerfield Girl or Boy as you walk through the Memorial Building, not stepping on the Seal in the entrance to the gym, eating at sit-down meals and participating in Choate Day rituals are all traditions that define us as a school and community.
These are the reasons I decided to come here and commit fully to this community that is unique from any other. I wanted to be a part of the school songs, the class cheers and the green paint in preparation for slaughtering some swine.
These traditions are what fuel our school spirit and student morale. Without Choate Week, who knows how we would be able to make it through the fall term without having a breakdown. We would have nothing and no one to direct our anger toward besides our own classmates and faculty. During Choate Week, we are able to forget all our worries and problems and aim our anger at a common enemy.
Try to picture a community without class cheers, the Deerfield Boy and Girl in the Memorial Building Lobby, sitdown meals, without the Seal, a Choate Bonfire or Pep Rally, a Spring Day on the Lower Levels or Carnival Night in the Dining Hall.
Our traditions are what make Deerfield the special place it is. Without them, we become just like Choate, Hotchkiss, Exeter, Andover… the list goes on.
Furthermore, having some sense of order and routine in our lives is not the worst thing. In an ever-changing world, it is comforting to know that these traditions will always be there.
They are why we miss the school so much when we leave for breaks. We miss our daily routines and our safe bubble where nothing and nobody can hurt us. Our traditions make Deerfield feel like a home. Without them, it would seem like a mental institution designed to destroy our spirit.
Tradition at Deerfield from the outside might seem stupid or corny, but our traditions are what make Deerfield a community that students want to be a part of.