Osama "Sam" Khalifa: Squash Wiz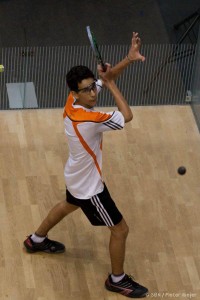 In the past two years, professional Squash player Osama Khalifa '14, has won over 60 times in not only Egyptian tournaments, but also the German, British, Swiss, Australia and World Squash Opens.
He also won the Dutch Open when he was 16 years old, the youngest player to win this tournament in the history of squash.
Hailing from Cairo (Egypt), Khalifa first found out about Deerfield when he met a squash coach at a tournament who introduced him to the school.
"After thinking about my future, I decided to come to Deerfield, so I could balance out my academics and squash," Khalifa said.
His said his ultimate goal is to win the gold medal in the 2020 Olympic Games, but he does not want to overlook his education. According to Khalifa, it is very hard to both study and practice the game every day. However, he tries his best to balance the two activities. "Whatever the future holds for me," he said, "I want to graduate from college before deciding what I really want to do."
Although Khalifa is now a globally acclaimed player, success didn't come easy. He started playing squash when he was four years old.
"My dad loved squash and first taught my older brother, then me," he said. "It is a sport that has been passed down from generation to generation in my family."
Throughout his childhood, Khalifa spent more time in the squash courts than he spent with his friends.
Khalifa said, "I would wake up at 6 a.m. and go practice in the squash courts. After practice would be school, fitness, then squash again."
Also, because the British Open is held on January 2nd every year, Khalifa has spent both Christmas and New Year's alone in the squash courts for the past couple years. Although he has had to make this sacrifice, along with many others, he said, "[Squash is] my best friend, my family and my love. Although I don't get to do what others do, I get to spend the holidays doing the thing I love most."
Even at Deerfield, Khalifa has kept up with this routine that he has followed for years. Since the start of the school year, Khalifa said that he believes he has learned a lot about the value of teammates and family.
"By practicing together with other players, I am not only able to hone my own skills, but also teach and learn from them," he said. "My older brother is in New York so he comes up here often and coaches me."
He also believes that his decision to attend Deerfield was the right one.
"It was definitely one of the hardest decisions I have ever made in my life. Leaving Egypt, my family, and my squash was the last thing I had ever thought about. However, it clearly is a life-changing opportunity. I have had the chance at an incredible education and amazing worldwide friendships, as I gain a whole new global perspective along the way."
He especially notes, "One faculty member who I am especially grateful to is my hall resident, Mr. McVaugh. He has made me feel at home during this transition and I cannot thank him enough for all that he has done for me."