Mwakima Shares His Transition and Lessons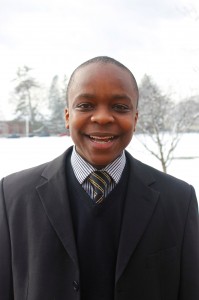 Before he arrived at Deerfield, the only time David Mwakima '13 had left his country was for a Round Square International Conference in India.
"I was very excited to be given the opportunity to attend a place such as Deerfield. I knew it would change my life," Mwakima said.
Native to Nairobi (Kenya), Mwakima attended the Starehe Boys' Centre and School and was selected to attend Deerfield for a PG year.
"To be honest, the transition was challenging," Mwakima said. The main difference, he noted, was in academics.
"I was not used to assignments being given on a regular basis and being due the following day," he said. "In Kenya we still had assignments but were given a little more time to do them. Here, if you don't do your reading the night before, you risk being left behind as the discussions are proceeding."
Despite the difficulties, most aspects of Deerfield academics have improved for him and helped his transition.
"At Starehe, as well as most secondary schools in Kenya, the discussions are much stricter, you must always raise your hand," he said. "Here it is easier to participate. You can come in and give your comment or observation—that was new to me."
In political philosophy class, he learned to speak up. "I think my teacher thought I was reserved at first, but I really just was not comfortable interrupting someone that way," Mwakima said. "But I realized that was the environment."
Several aspects of the culture were foreign to Mwakima as well.
"I have come to appreciate the culture that is here at Deerfield," he said. "Something that I think is distinctive is the idea of thanking. After every class or meal you thank the teachers. That was also new to me." He continued, "I know a lot of students here come from well-off families, and then there are many who don't come from the same background, but every one person has such a uniqueness that I don't feel you would know the difference. I have not met a person that ever looked down upon me."
Mwakima said he learned an important lesson from attending Deerfield.
"You must not live life [just] for yourself," he said. "If you can live your life for others, you gain not only your own happiness and satisfaction, but also your actions and decisions are for other people in your community. It will help [solve] the negative vices we see in society. I think Deerfield is taking a very strong step towards that."