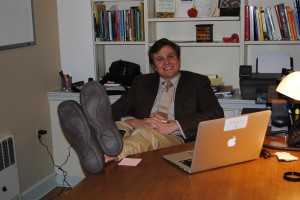 No one understands better than Director of Global Studies David Miller the effect that the Deerfield bubble has on students' lives.
Mr. Miller grew up in Cambridge, Massachusetts on the campus of Leslie University, attended Concord Academy and earned his undergraduate degree from Bates College. However, he did not follow the usual progression from high school to college—instead, he chose to take a gap year.
During that time, he traveled abroad to teach English in rural Costa Rica, lived on a coffee farm, became a certified scuba instructor and worked at a resort in the Cayman Islands.
"Reverse culture shock is one of the most important parts about studying abroad because you come back being able to question things," Mr. Miller said. "You have completely different understandings of stress and injustice."
Throughout college, Mr. Miller continued to run summer programs abroad and went to work at the Island School in the Bahamas for three years and eventually became Director of Summer Programs.
However, "looking for new mentors and new challenges," Mr. Miller turned to developing his passion for teaching. He attended the Harvard Graduate School of Education this past year.
"I wanted to have more of a perspective on education before moving on and to have more of the skills to understand the bigger picture of schools," he said.
When Mr. Miller saw the job posted for Global Studies Director at Deerfield, he said he "could not have written a better description of what I wanted to do because it is a mix of working with students and organizing trips while still being able to teach."
Although Mr. Miller had a fever of 101 degrees when he visited, he left with a positive impression of Deerfield.
"The students and teachers were very engaged," he said. "The school really wants to be able to teach global literacy."
He also offered his take on steps Deerfield could take.
"The first and most important thing is to celebrate experiences on campus and the stories of the people that are here," he said. "More people need to realize that they could be getting a global education without even leaving the country."
Mr. Miller continued, "A good global education is just a good education. Every day in some way we can all find ways to have perspective on how we fit in the world and the impact we can have, because a lot of people are struggling."
"Deerfield was formed on the pretense of creating people who live worthy lives," he said. "And it is a different world now than when Frank Boyden was here."
While he said the school is "still defining its strategy regarding global education," Mr. Miller is on a mission to help the student body gain a better global perspective.