Laps for Miles…Smachlo '16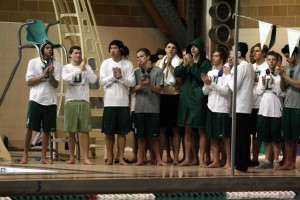 As Miles Smachlo '16 concludes his first season on the Varsity Boys' Swim team, he has established himself as an important asset to the group, which has amassed a record of 5-1-1.
A versatile swimmer, he has placed i n the top ranks for a variety of races. In each, Smachlo has been recording best times this season, which are also among the highest times for the entire team. His favorite races include the 100 Fly (53 seconds), 200 Individual Medley (2:00) and the 200 Freestyle (1:48).
Head Coach John Burke said, "Smachlo is among the best swimmers in the New England regular season."
Aside from competitive achievement, Smachlo has earned a reputation on the squad for his endurance, as he doesn't tire easily. His success can be attributed to years of experience in the pool. He has swum since age four and joined the Albany Starfish three years later. In addition to the Big Green, he continues to swim with the Starfish and has qualified for the 2013 Eastern Zone Select Camp, a three-day program created by the national swim team.
When asked about his experience on the team this season, Smachlo acknowledged his fellow team members. "It has been very easy to assimilate into the swimming program with great captains including Oscar Miao '13, Ben Wood '13 and Taylor Clough '13," he said. Mr. Burke appreciates Miles's "endearing personality that has become more comfortable with the season's progression." Mr. Burke knows the older team members recognize Smachlo's unique abilities and believes Smachlo feels increasingly relaxed after proving himself with stellar times.
The group bonds during practices, in which they often swim 6500 meters, a little over four miles.
When explaining why he chose Deerfield, Smachlo said, "I liked the size of this school, as well as the feeling when I was on campus. When I visited, it was a very friendly community where I felt like I fit in." As his first year winds down, he said, "I hope to swim my best times at New Englands and Easterns, in order to contribute to the success of the entire team." Mr. Burke believes he can, and that the team, with Smachlo's participation, can bring home a New England titl