Girls Varsity Squash Squashes its Competitors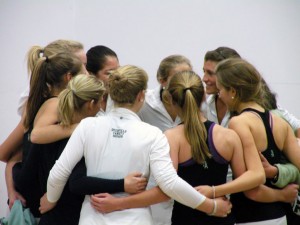 This season, he Girls Varsity Squash team has outscored opponents 35-1 during its first five matches, which have included competitions against accomplished teams such as Hotchkiss, Milton, Groton and Choate.
Pleased with the effort so far, Coach Karinne Heise attributes the squad's success to "skilled, talented players who work hard and are driven to be the best they can be."
However, the team has many challenges ahead, notably the National High School and New England Championships. At these competitions, the group will face Greenwich Academy, "our long-standing rival," according to Heise, and seek to avenge its second-place finishes at both events last year.
"We really hope to win high school nationals this year," Captain Emily Jones '13 said. "It has been a goal of mine since I was a freshman and it'd be such a great way to finish. We have great talent and have worked very hard this season. I really think we can do it."
Sophomore Sam Chai is also eagerly anticipating the tournaments. "The teams are of a different caliber from our league matches," she said. Chai, along with freshman Annie Blasberg '17, demonstrates the team's depth, as the roster also includes four juniors and four seniors.
Jones is the group's number-one player, who committed to play squash at Harvard next year.
"I admire her energy and love for the game—it encourages us," Blasberg said. "Playing with Emily inspires us to work towards her level."
Despite the high level of commitment, which includes year-round individual efforts, the teammates "always have so much fun together and laugh even during the hardest workouts," Chai said.
Jones added, "The team is unique because we all get along so well. I see these girls all the time, on and off the squash court and in and out of season. We're an incredibly close team."
Although each individual competes with her team members on the ladder, Coach Heise said the group maintains a sense of camaraderie. "Pushing and competing with each other improves the girls' individual skills and contributes to boosting the team," she said.