For Yara Khoury, a Joke Becomes a Dream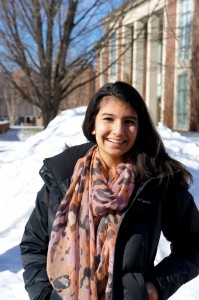 The idea of coming to Deerfield for her junior year began as a joke between Yara Khoury and her mother. Nevertheless, fast-forward one year and Khoury is here at Deerfield rather than King's Academy in Jordan, where she was a day student.
During her sophomore year, Khoury received an email outlining the exchange program. Khoury suggested it to her mother jokingly, because her only time apart from her family had resulted in extreme homesickness. She did not mention the opportunity again until she realized that she was actually interested. From that point on, Khoury began the process of writing an essay and getting teacher recommendations, in a fashion not dissimilar to applying to Deerfield as a regular student. Once she found out she was accepted, both Khoury and her mother were thrilled.
The biggest challenge for Khoury was not actually leaving her home behind, but rather her language. "Everyone speaks Arabic there. You speak Arabic with your friends, and suddenly there is no one to talk to [in it]." Despite this, Khoury has an advantage due to the fact that she spent many of her winter and summer breaks in the United States with family. Classes are taught in English at King's, but Khoury said that her experience in America before coming to Deerfield is what reduced the culture shock. "Because I've been exposed to living in the States before, and I've spent so much of my childhood living in the states, it's not as bad," she explained.
Once Khoury arrived at Deerfield, the assimilation process was not difficult. She realized that that there are very few differences between Deerfield and King's. "Because King's is modeled after Deerfield, it is so similar," she said. While the similarities helped, Khoury credits her smooth transition to the girls on her hall, who "changed the whole thing." She could not praise them enough, adding, "The girls on my hall are amazing. They are so nice. They made it so much easier for me to just fit in and get into everything."
Not only can students from King's Academy come to Deerfield, but Deerfield students can also spend a year at King's Academy. Khoury encourages everyone to "consider going there because life in Jordan in so different–just visiting the Middle East, visiting Jordan and experiencing a different side of the world is so much fun."
The thought of leaving behind your school and country can be frightening, but for Khoury, it was worth it. "I miss being with my friends. But I love it here. I don't regret it a bit."