For the Love of Rock 'n Roll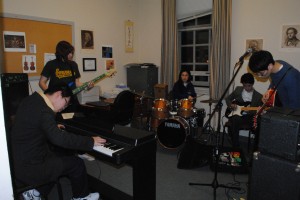 To keep music a vital part of students' lives, guitarist and singer Ju Hwan Park '14 has started Deerfield's first student-run band in recent memory.
"There are so many talented musicians at Deerfield who don't really get to play music because they dedicate so much of their time to academics," Park said. While the school has a concert band, it is only available to students who have a free 6th period and choose to take it as a class.
"Some students just give up their music careers if they are not able to take that class," he explained.
For two nights a week, Park joins pianist Chris Lin '13; drummers Jimmy Park '13, Cole Horton '14 and Michelle Kelly '15; bassists Chris Merrill '13 and Hailey Nuthals '14 and guitarist John Dillon '13. The band is open to anyone who loves music, no matter the extent of his or her musical prowess.
"I want to give people the opportunity to play and enjoy music," Park said. "Also, music is healing. It seems like people are always so stressed here, and I want to be able to share and promote music. When I first came to America, my English was not that good. I communicated through the universal language of music."
Park played the drums for six years before high school and currently plays the guitar and piano. "I love singing, and I wanted to play something I could sing along with, so I picked up guitar," he said.
Park also sings with the Deerfield Mellow D's and is in teacher John Van Eps's Wind/Rock/Jazz Band class.
Park's band debuted at School Meeting and performed at the MLK assembly. "It took us some time to get started, but now requests are hitting us all at once. We are preparing," Park said.
The band plans to put on a weekend Greer concert as well as provide entertainment for Spring Day. Seeking to make community service one of their central focuses, the band also plans to perform at the "Relay for Life" ceremony as well as at senior centers and the Deerfield Elementary School.
"It makes me happy when we give back and play music that people truly enjoy," Park said.