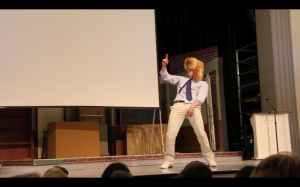 In a matter of weeks, the dance and video craze called the "Harlem Shake" has swept the nation.
The Harlem Shake dance has been around for over 30 years. In 2003, a man named Al B. told InsideHoops.com that the origin of the dance move came from Egypt. "It was a drunken dance, you know, from the mummies, in the tombs," he explained. "That's what the mummies used to do. They was all wrapped up and taped up. So they couldn't really move, all they could do was shake."
Harry Rodrigues, also known as Baauer, released the song called "Harlem Shake" heard in YouTube videos in 2012. The song did not become widely popular until Febuary 2, 2013 when a comic called Filthy Frank uploaded his video to YouTube. The video has over 12 million views, and the song is now number one on iTunes.
Over 4,000 videos similar to the original have been uploaded per day to YouTube since. Typically, one masked person dances alone until the beat drops, then crowds of people dressed in
outrageous costumes dance.
A wide range of people, including firefighters, soldiers, office staff, and even residents in retirement homes, have made these 30-second imitations, as well as celebrities like Ryan Seacrest and Kendall and Kylie Jenner.
However, Filthy Frank is tired of the craze. "I'm thinking of just deleting the Harlem Shake video," he tweeted recently, "It's just so pointless and attracts useless people."
Several "Harlem Shake" videos have been made in dorms on campus, including Louis Marx, John Williams and Poc, and the JV girls hockey team made their own rendition on the ice.