Deerfield Rallies For Climate Change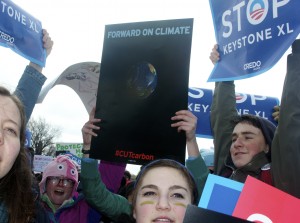 Twelve Deerfield students and three faculty members traveled to the National Mall in Washington, D.C. to participate in the February 17 "Forward on Climate" rally.
The rally, which drew thousands of people from across the United States and Canada, advocated for President Obama to reject the Keystone XL Pipeline proposal that would deliver oil from the Alberta tar sands, roughly the size of Florida, to refineries in the U.S.
With the capacity to channel approximately two trillion barrels of oil, the Keystone XL Pipeline raises the issue of environmental safety as well as corporate profits and foreign relations with Canada.
The approval of this Pipeline project, which would transport 700,000 barrels of crude oil a day, would destroy habitats and water reserves. This project has galvanized major opposition from the general public and key figures such as Bill McKibben, founder of 350.org; Michael Brune, executive director of the Sierra Club; and even Obama's own former Green Jobs advisor, Van Jones.
If President Obama rejects the Keystone Pipeline project, there may be potential tension between the U.S. and Canada, a major trade partner, as this pipeline project would provide a boost to the Canadian economy.
For Deerfield, this rally was not just a rally for a crucial issue. Nolan Bishop '13, who arranged for Deerfield community members to attend the rally, said, "Part of being in a democracy is standing up for your values and making your voice heard."
"I think that we need to actually do something about the environment," said Genevieve Gresser '15. "We all talk about how global warming is affecting the planet and how it will affect the future, but not a lot actually happens. When I heard about the pipeline, I was enraged. It seemed like we were going in the wrong direction. We can't just keep talking about these issues."
As the protest will ultimately have some influence on Obama's decision in March to approve or reject the project, it was a "vital experience to feel what a protest is like, especially the largest climate rally in history," Bishop said.
The protest consisted of a two-hour rally at the National Mall, followed by a march to the White House. McKibben, whose 350.org is a major opponent to the Keystone XL Pipeline, said, "It's the people who understand that the fight against fracking and against coal ports and taking the tops of mountains is ultimately the fight for a living planet."
February 13, before the official rally took place, Conor Kennedy '14 went with his father Robert Kennedy Jr. to a protest organized by McKibben, along with 48 others, at the White House. Taking a more active role in the protest by tying themselves to the White House fence, the group of 50, including Conor, was arrested for not following police orders to leave.
"It is in some ways sad," Kennedy said, "because any time you have to resort to civil disobedience or get arrested for a cause, it shows that there are no other alternatives, for example, to influence the way the oil company thinks about this issue."