DA Arts: Calling all boys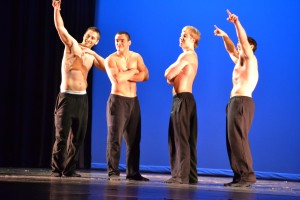 The Deerfield arts program, especially dance and theater, has been lacking male participation in its classes and projects in the last few years.
"Interestingly, when I started teaching at DA in 2000, I consistently had a boy or two in a class, now that's a rarity," explained Director of Co-Curricular Dance Carrie Towle. "A significant body of the technique at an advanced level of ballet involves partnering, and that is an area we never teach at all, as we don't have enough of a critical mass of male partners."
On the other hand, Director of Theater Catriona Hynds sees the theater program as an exception. "The boys outnumber the girls three to one in Acting 1…I believe that theater has always attracted a wide variety of individuals, regardless of gender, social status and sexuality."
"The pace of life keeps a lot of people from pursuing arts, especially drawing," said Advanced Visual Arts student Wyatt Sharpe '13. "It's a really time-demanding activity and the pace of life at Deerfield makes it unrealistic for a lot of boys and girls on campus to spend time drawing and painting during their schedules."
Connor Manson '14, who will be one of next year's Varsity Football captains and is in his second DA play this winter, feels low male participation has to do with image. "Some guys think that being in the arts is end up trying out for a sport instead of signing up for an art, because they think that's a more masculine way to go. It's a shame more guys don't try the arts."
In response, the directors in DA's arts program have been brainstorming ways to entice more male participants and change the image of male actors and dancers in our community.
"It's as simple as changing the conversation," Director of Dance Crystal Nilsson said. "There are many cases of male athletes who cross-train with dance to achieve optimal coordination, agility and stamina…Talking about the rigors of dance training and opens a new perspective of dance."
Ms. Towle echoed similar sentiments. "The larger DA community can have a significant impact on how the arts are regarded. Do advisors encourage boys to try dance and arts as co-curriculars?" "What I am more interested in than attracting more males is not stereotyping the arts…Theater has never been the domain of just one gender and there is plenty of opportunity for both," Hynds said.
The lack of male participants in the arts program is what initially convinced Manson to join the play as a sophomore in 2011. He hopes to compel other boys to give the arts a shot.
"The arts is a chance to become more well-rounded and push yourself out of your comfort zone," he said. "It's definitely been a beneficial decision for me."