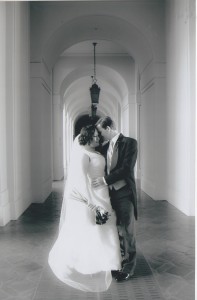 Deerfield Academy is filled with teachers and staff who have decided to dedicate their lives to the school together with their partners. And although it probably hasn't crossed your mind, your science or English or math teachers might just be real romantics with exciting stories to tell.
In the modern world, there are many ways to meet a future spouse. Daniel and Corinna Roihl met, out of all places, on Craig's List.
"I was new in town, freshly single, looking for some furniture on Craig's List, and I figured, why not throw my profile up there as well," Mr. Roihl said.
A few days later, Mrs. Roihl contacted him and they decided to meet.
"I had just come back from living in France for a year and decided, hey, I want to meet someone outside of my crazy, cooking-chef, monkey world," Mrs. Roihl said.
She then asked him if he would like to meet for dinner at a Los Angeles restaurant that has now become a favorite. Three years later, they got engaged.
The couple said their most special time together was a trip to Spain.
"We had planned this whole trip to Spain around this wonderful restaurant that she had finally gotten a reservation to eat at," Mr. Roihl said. He added that getting a seat at this restaurant, which gets over a million requests per year and is open only six months per year, is almost impossible.
"I tried to win them over by being funny, in Spanish and in English," Mrs. Roihl said.
The Roihls enjoyed a 26-course dinner, overlooking the Mediterranean on the top of a mountain.
Three years ago, Mr. and Mrs. Roihl moved to Deerfield. Mrs. Roihl, who had been working as an executive chef at a very Hollywood-centric catering company called Catering by Field, decided to move with him. "Everyone needs to eat, no problem. He's a lot more specific about what he does. It had to be a place where they value the arts," Mrs. Roihl said.
Mr. Roihl added, "We had just moved back East and I got a call from Peter Warsaw, who had been my music teacher at high school. He called and told me that there might be an opportunity for me at Deerfield."
Mr. Warsaw, Mr. Roihl's high school teacher, is just as much of a romantic. Peter Warsaw and Ada Fan grew up in the same town and were in the same spelling bee in middle school.
"He won when he was in eighth grade and I was in sixth grade. I didn't really think it was fair that eighth graders compete against sixth graders," said Ms. Fan. Mr. Warsaw's response: "I didn't make the rules."
A few years later, they almost met again when Mr. Warsaw went to Exeter. Mr. Warsaw's sister would find him pen pals from her all-girls school, and he would do the same for her. Usually, he wasn't too happy with her choices when he would meet the girls. Right when he told her that he would like to end this system, Mr. Warsaw said, "The next suggestion she had was Ada. She said, 'I met this unbelievable girl.'" But Mr. Warsaw did not take up the offer.
When Mr. Warsaw came to see his sister's graduation, he saw Ms. Fan giving a speech. "She was the star of the show," Mr. Warsaw said. He said when Ms. Fan went to Harvard, where he was studying, "As fate had it, we were living in adjacent dormitories."
At first they got to know each other as friends, but by the next term they started dating. After graduation, when Mr. Warsaw was offered a job at Brooks, he was told he wouldn't be able to leave campus during the term–and no female visitors were allowed. "We got married because we figured we could always get a divorce," Ms. Fan joked.
After Brooks, they both went to Rochester for graduate school, then went to teach at Andover for 24 years, before coming to Deerfield in the beginning of 2007.