A Hand-Crafted Masterpiece Will Take Weeks to Complete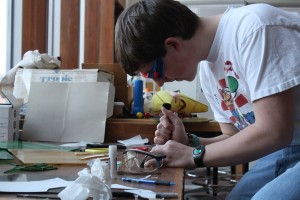 Taran Weeks '13 learned the art of stained glass during his four years at Eaglebrook. At Deerfield, academics and other commitments have left Weeks too busy to spend much time on stained glass, but this winter he has been given the opportunity to pursue the craft as a co-curricular.
"I tried stained glass my first semester at Eaglebrook and fell in love with it," Weeks said. "I hadn't tried to get an exemption for stained glass before, but I figured since I am going to donate my finished piece to Deerfield, the school would be happy to let me do it."
"I have a studio in the basement of my house, and my teacher from Eaglebrook helped me buy all my own materials," Weeks explained. "Besides the project I'm currently working on, I've done two other really big projects. One was a wedding present for my brother—a view of Bar Harbor from Cadillac Mountain in Maine. The other is called 'Wild Life,' a small window depicting flowers and nature."
Weeks' current project will be the largest stained glass window he has ever made with dimensions of roughly 30" x 20".
"It's the view from The Rock looking down on the Deerfield Valley," Weeks said. "There's the river and mountains, and I'm going to try to put a couple Deerfield buildings into it." Weeks also said he pictures his piece catching the light in a window on the second floor of the Boyden Library.
"The hardest part about stained glass is imagining what your project is going to look like when you put it up against a window," Weeks said. "You're working with light as a medium, so the way your project looks with a dark background is completely different from how it looks against the light. Cutting the glass and all is not really that hard. It just takes a while."
Weeks spends about an hour and a half every day after school working on his piece with glass panes that cost about $10 per sheet (all of which he paid for). Due to time commitments, Weeks is unsure if he will continue making stained glass after Deerfield. "I would love to continue with stained glass, but I'm worried I won't have enough time in college," Weeks said.