Sit-Down Dinners: Missing The Message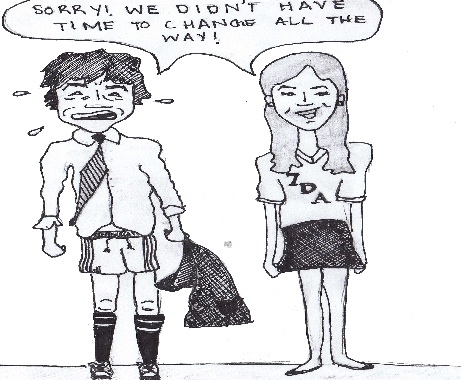 Sit-down dinners have the potential to be a space where students can take a break from the regular group of people that surround them and get to know a few new faces over a nice and somewhat quick meal. Lately, however, the issue of whether or not sit-down meals actually serve this purpose has sparked a great deal of controversy.
Coming back from co-curriculars, I see frenzied first waiters going from sports to showers to the dining hall, slapping forks and knives on the tables and hustling to the waiting lines. The remaining students aren't exactly exempted from this ordeal either. Those famous forty-five minutes between sports and food seem to be a brief window of all-reigning agitation on campus.
After finally making it to the dinner table, the meal commences. We've all just finished co-curriculars and still have a considerable amount of work pending; talking about current affairs and getting to know each other isn't exactly first priority. Alas, for the most part, sit-down dinners don't quite get to fulfill their purpose.
If Deerfield students didn't have the day packed with errands to take care of and commitments to comply with, sit-down dinners would be a great idea. But the hectic pace that Deerfield upholds is defeating the point of having them. Instead of being a pause in the day where students can relax and get to know one another, sit-down meals have become one more item to check off on the already long to-do list of most Deerfield students.
They are great in theory, but they come attached to too much stress. There are ways to detach some of this, like allowing all students, or even just first waiters to dress down.