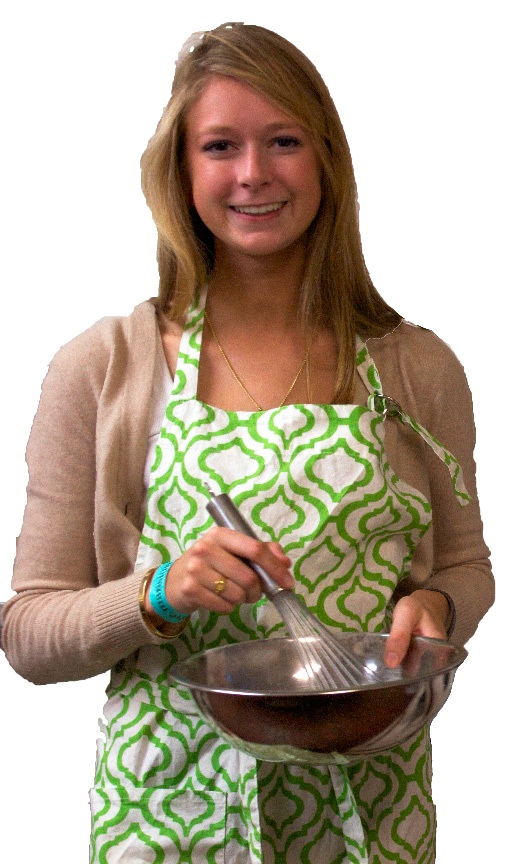 Place Wilson '14 decided to pursue baking for her co-curricular exemption this fall.
"It's the one thing I gave up in coming here," Wilson said. "It's the one thing I really missed. So I came up with a plan and talked to the right people."
Last spring Wilson approached her exemption advisor, Sous Chef Corinna Roihl, a former professional caterer, with her idea.
"She is very talented," Wilson said. "She helped me find where everything is, but because she doesn't bake, it's very independent."
Wilson cooks in the Parker Room kitchen three days a week and produces approximately sixty muffins or one hundred cookies. She brings her food to walk-through meals and her hall.
"I don't know originally that it's going to work out," Wilson said of her baking process. "I start with a baseline, figure out what I'm looking at to tell if it's too dry, sweet or has too much fat content. Because I don't know the science behind it, I experiment from there."
Wilson works from cookbooks to improve upon recipes. Her favorite cookbooks are the Joy of Cooking and Bake Wise. She said she constantly changes recipes and updates cooking logs.
" I've been making this recipe of chocolate chip cookies, and I've completely changed it over three years. I have five variations," she said.
Wilson says she feels lucky to be able to pursue baking this fall.
If you can find something that you really enjoy, Deerfield is very flexible about things like this," she said.
"Cooking is spontaneous, while baking is very structured and less stressful. That's why I like it so much. Sometimes I'm in there three hours, four hours: that doesn't faze me. I just love it so much."
Wilson looks to the future to continue her baking. "I could do an internship in a bakery someday. It'd be fun to see the mass production element of baking."