Mr. Nilsson Spurred By Passion for Politics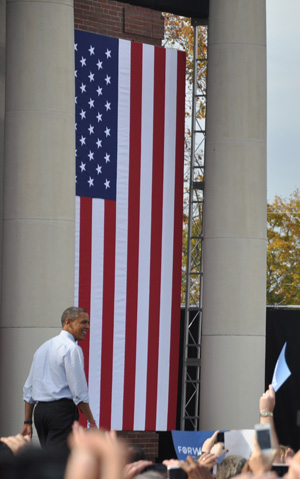 With the close proximity of the 2012 presidential election, the political fire on campus is growing, sparking debates and new interest in politics amongst students and faculty.
As one of the most well-informed people on campus when it comes the subject of the election, Mr. Nilsson recently gave a presentation at school meeting outlining the basics of what it means to be involved in a campaign. For this, he drew on his experience working for the Obama campaign, but he did not share the entire story.
Mr. Nilsson further explained that he "was dissatisfied but hadn't done anything but vote," and explained that " since I had not contributed my time and had not participated and been proactive, I could not complain if the election did not turn out the way I wanted."
Having no previous political experience, Mr. Nilsson started volunteering on the Upper West Side of Manhattan at visibility events, and soon after was organizing similar events himself, some even written up in the New York Times.
He became the Main Coordinator for the area of Manhattan west of Central Park for Primary Day, and began then to realize "how much impact an individual can have."
The summer of 2008 the Obama Organizing Fellowship sent volunteers to swing states, and Mr. Nilsson was hired as a field organizer for 65,000 inhabitants of two towns in lower Buck's County, PA. There, Mr. Nilsson directed an office that managed 300-400 volunteers every week up to the day of the election itself.
"The experience was life changing," Nilsson said, "because it is empowering, and you realize that you have the opportunity as an individual to organize people who support a cause, help them further that cause, and help people who do not yet have political opinions develop them."
Just as Deerfield students continue to discover the empowering feeling that comes with the ability to vote in a national election, Mr. Nilsson, too, found that aspect of politics inspiring as well. "Some of the most vivid moments from my time working in New York City and Pennsylvania were moments when I was registering voters, young and old, having conversations with people who had not been part of the political
process but were growing interested in it. There is something satisfying about participating in an election—even simply voting—and little was more rewarding than seeing that spark of empowerment in other people. They would recognize that there is a process, that they can be a part of it, and that they can lift their voices, too."
Obama was victorious in the 2008 election, and although there were many other factors that contributed to this, Mr. Nilsson following his passion and standing up for what he believed in was definitely one of them.