Football Season Was Far From a Fantasy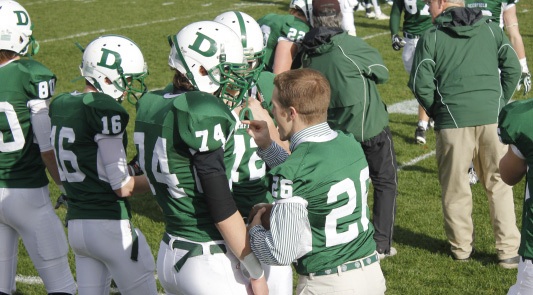 The sudden, unexpected outbreak of injuries on the boys' varsity football team this term far exceeds the record from any football season in Deerfield history. Head Coach Michael Silipo said, "In the past forty-five years, I have never seen so many kids hurt."
Even before fall term began, the varsity football team had high expectations. For this season, the team welcomed eight new recruited postgraduates, along with many returners who all contributed to the formation of a strong team. Coach Silipo said, "In the beginning of the season our team was looking much superior to last year's team. The players worked well together, and we were looking to go to the championships. "
In total, this year's team is composed of ten postgraduates, twelve returning seniors, nine juniors, and eight sophomores. J.R Mastro '13, Ray Horgan '13, and postgraduate Damien Vega '13 are the captains of the team. Twenty players out of the thirty-nine on the team were either injured enough that they were not able to play in multiple games or injured enough that they had to get surgery or be out for the remainder of the season. Furthermore, this list of twenty included all three of the captains and five of the eight recruited postgraduates.
The first player to get injured was one of the captains, Ray Horgan '13. Horgan badly hurt his knee during a scrimmage against the Salisbury School before the first game took place. Due to his severe injury, he had no choice but to go into rehabilitation, and then go on hiatus from playing for the rest of the season.
Damien Vega '13, a recruit and starting quarterback for the team was also forced to sit out the rest of the season. During the second game of the season against Taft, Vega suffered from a Jones Fracture on his right foot and had to have surgery that will require six to eight weeks' rest.
After Vega got injured, the only back-up quarterback, Harrison Lane '15 also had to step out for a couple days due to a minor concussion. Having lost both quarterbacks, Coach Silipo turned to Billy Smith '13, a wide receiver, to play quarterback during the game against Hotchkiss.
Smith was not the only player who was moved to another position. Because of concussions and injuries, other positions also lacked players. Coach Silipo was deeply worried,: "Split end, tight end, fullbacks…we're missing many line-backers."
According to the coaches, due to the lack of players, the team has no choice but to play simple, basic offensive plays in games. However, this misfortune did not seem to change or deteriorate the players' positive and passionate attitudes. The players could be seen training rigorously, if not more rigorously than they had before the athletic accidents. Injured players like Colton Dana '13 and Tyreak Richardson '15 were eager to rejoin the team out on the field. Captain J.R. Mastro said, "Our players are trying twice as hard in order to fill up the parts we lack. We will still have more games and we will try until the very end."