The Laramie Project Stirs Up Discussion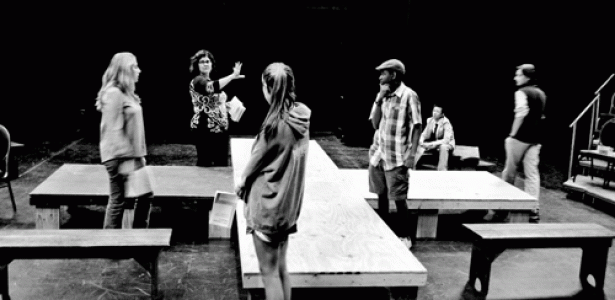 A 17-member cast will take on 65 different roles to in The Laramie Project. The fall play shares the story of Matthew Shepard, a 21-year-old University of Wyoming student who was murdered for being gay.
On October 6, 1998, Russell Henderson and Aaron Mckinney whipped, robbed, and beat Shepard before they tied him to a fence. Then they left him to die.
Cyclist Aaron Kreifels found Shepard. He was in a coma for six days before he passed away.
A month after the homicide, the Tectonic Theater Project traveled to Laramie, Wyoming to conduct interviews with locals.
From these interviews, the Tectonic Theater created The Laramie Project.
"The fact that the play is about a real story and is a compilation of interviews of real people makes it very present and unavoidable for both the actors and the audience," cast member Stefani Kuo '13 said.
She added, "This is a play that really has a message to get across, not only about homosexuality and acceptance, but also identity in general. I think that is a very strong message that strikes people."
Theatre Director Catriona Hynds said, "The play is a great catalyst for opening up dialogue."
The issues highlighted in the play are very current with young adult culture today. On campus, organizations such as the GSA and Connect4 will hold forums addressing homosexuality, bullying and tolerance. Post-show discussions among cast and audience members are scheduled during two of the performances.
When asked about the content's impact, senior actor Thomas Shuman '13 said, "It is not so much the play, but the activities that we are doing with other groups on campus."
Stage manager Hailey Nuthals '14 said, "The Laramie Project is a deep and moving play and I think it will force people to think about their values and opinions regarding the tough issues addressed."
Michael Beit '15, cast member and assistant director said, "I'm really excited for the play, and I think that it is going to have a big difference in the Deerfield community.