Rhapso-D's Reel Over Sunday Rehearsals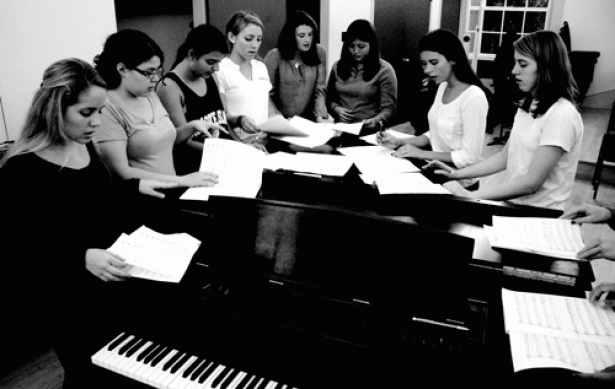 The Deerfield Rhapso- D's petitioned to end their chorus requirement earlier this year, arguing the two-year chorus prerequisite and Sunday rehearsals created scheduling conflicts and undermined pace of life.
"Allowing room for Chorus 5th period restricts a student from pursuing other academic classes," the petition read. "Acappella should be a means for students to express themselves musically without the burden of a scheduled class."
The new requirement states every a cappella singer must take at least two years of chorus (or another yearlong music course) and rehearse with the Deerfield Choral Society for an hour and a half on Sundays.
Elena Jones '14 dropped science altogether to stay in Rhapso-Ds. She wanted to take AP Biology or Anatomy and Physiology, but could not since she needed to take chorus.
On the other hand, Travis Russell '14, who was supposed to be a leader of the Mellow-D's this year, dropped out of the group because he could not fit chorus into his schedule.
"I wouldn't be able to pursue my academic goals to the best of my ability if I did not have a free in my academic day," Russell said. "So I had to choose academics over my love for singing, because, at the end of the day, my top priority at Deerfield is academics." Some Rhapso-D's were reluctant to devote 205 minutes to chorus weekly, especially a portion of their Sundays.
"Sundays are the only days students truly have to themselves," Annie Blau '13 said. "We use the rest of the day to either do homework or to relax, but with the new requirement, our day is shortened."
"We're trying to be sensitive to students and their time, yet balancing," said Daniel Roihl, director of music. "There has always been some expectation that members of the a cappella group, originally students in chorus who wanted to do something more, would be in chorus. In fact, the groups were originally faculty-led ensembles."
The Rhapso-D's proposed to limit the chorus requirement to one year instead of two.
"The sightreading portion of chorus has been helpful, but one year is sufficient to build the necessary skills one needs to contribute well to the group," Emma Witherington '13 said.
They also argued that acappella groups were "student-run clubs."
"While we receive help from Mr. Van Eps who writes our musical arrangements, the bulk of the work falls on the students who work together to collaborate, rehearse and perform," the petition read.
Mr. Roihl responded that the relationship the groups have with the music department is special to Deerfield.
"There is a big level of involvement from the faculty that isn't present in many other schools," he said. "This is partially responsible for the quality of the program and is something that should be preserved."
"Although the petition presented the students' concerns compellingly, we decided to stick to the requirement Mr. Roihl introduced this year," Head of School Margarita Curtis said. "While we are well aware of the difficult choices that students have to make, we also want to ensure quality in the Music Department. It's a way that the most talented singers can give back to the community—we
want to make sure our music program isn't weak."
Though the school has not accepted the petition, Dr. Curtis explained that it raises problems about pace and scheduling. "We are certainly considering potential changes," she said.