Plans to renovate Memorial Arts Building underway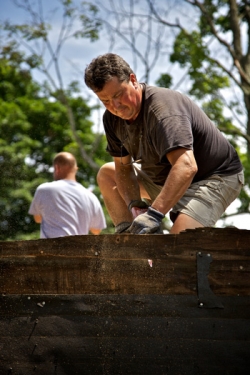 The renovation of the Memorial Building, center of campus arts, is expected to start in June, 2013, if the Board of Trustees approves the designs and plans, according to Project Manager and Planner Jeff Galli.
"One of the Academy's goals is to have the building LEED certified," Mr. Galli said. "As part of this project, the mechanical, electrical and lighting systems will be upgraded."
Renovation plans include a new balcony in the large auditorium to increase seating capacity, a second dance studio and an acting lab. The visual arts department will move from the basement to the first floor with a new art gallery and larger studios with more natural light. The music department will have more practice rooms and a "state-of-the-art" recital hall geared for small performances, according to Director of Music Daniel Roihl.
Theater Director Catriona Hynds said it was hard to teach theater in an open area like the Hilson Gallery.
"Rehearsals need to be held in a secure and private space so no one is inhibited," she said. "I am really looking forward to having this new acting lab for the work we do on a daily basis."
Mr. Roihl said, "I believe these renovations are long overdue, and having newly refurbished and updated facilities for the arts will almost certainly support our ongoing efforts to recruit bright and talented student artists."
However, student musician Justin Schlacks '13 said it is ultimately up to admissions officers to decide to admit more arts students.
"I feel that the admissions office prefers talented athletes to talented actors, musicians and artists," he said.
"I do not think the current facilities impede my ability to learn and believe the money could probably be spent better elsewhere—recruiting better teachers, improving the dorms or increasing the dining hall budget. Those changes would positively affect everyone on campus, whereas the majority of this renovation will probably benefit less than a third of the community," Schlacks said.
Student artist Clara Galperin '13 gave a different perspective on the renovation's significance.
"I think the arts is the only aspect of school that really leaves space for pure creativity," she said. "Developing a talent in that sense can prove incredibly fulfilling, even therapeutic."
Head of School Margarita Curtis said from an educator's perspective, the arts are a rich outlet for creativity and imagination demanded in the 21st century.
"The renovation of the Memorial Building will highlight the importance of music, dance, the visual arts and theatre in a liberal arts education, and ensure that our students enter adulthood and the workplace with the artistic sensibilities that will lead to productive, fulfilling lives," Dr. Curtis said.