Artist of the Issue: Sam Willson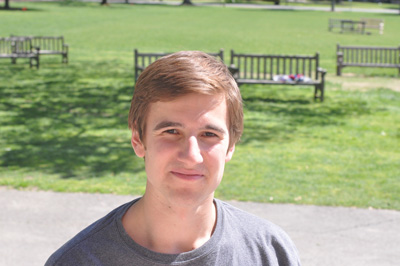 Star athlete Sam Willson '12 plays basketball and Bach. Since Willson was a child, the basketball courts have not been the only place he has been practicing. Around age six, howevever, he began playing the piano, and at age fifteen, his teacher introduced him to the pipe organ. His spring term independent study is practicing the pipe organ.
"My piano teacher knew the pipe organ. He said it was a great instrument to learn and that it can always be something I could do on the side, so I started taking lessons and stuck with it," said Willson.
Before coming to Deerfield, Willson got a taste of what it was it was like to be a performing organist. "I had a job at the Christ Episcopal church in Watertown, [Conneticut], a really small church. They needed an organist. It was the perfect opportunity for me to get some exposure to the church environment," Willson recalled.
Willson's persistence as an organist has formed a passion and developed an exceptional talent, but balancing his love for the organ with his dedication to playing basketball has always been difficult.
"There was no way I could have done organ during basketball season. That's why I got this alternative study to play the organ this spring—the last nine months I haven't played at all and I wanted to take this spring to focus on the organ," Willson said.
Willson's musical talents are surprising to many people, as they do not know much about the pipe organ. "What's different about the organ is that there are no dynamics. You can't play loud or soft, like on a piano—but you can pull the stops and make sounds like flutes or violins," Willson explained.
Willson is a dedicated athlete and musician, and although his future includes expectations of a strong basketball career, it is safe to say he will find time to pursue his musical passions that provide a respite from his quick-paced life.
Willson said, "It's nice to get away from things. When I was really stressed out during basketball recruiting, even if I didn't have an organ, I'd just sit down at the piano—it's very soothing."