Rhys Louis: the Man, the Myth, the Cyclist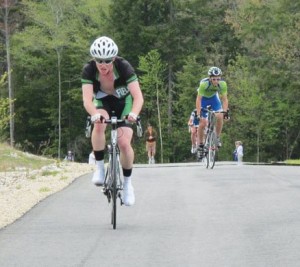 It isn't often that a varsity sport at Deerfield can be summarized with a single name, one that epitomizes the drive, speed, and intensity true to its definition. As a new sophomore last year, Rhys Louis '12 set astronomical standards for the spring's varsity cycling team.
Although Louis captained the mountain biking team at Eaglebrook School for two years, he didn't start road biking until the summer before he came to Deerfield.
The transition from dirt to pavement was no problem for him. "It's a natural progression, and things just sort of clicked for me," Louis commented.
"The first race I entered, I won," he remembered. "It was fun, it was awesome… I remember looking at the speedometer on my bike and breaking the speed limit across the finish line."
Only a junior, Louis is already the captain of Deerfield's varsity team, and although winning and captaining may look easy for him, a deeper look reveals that hard work has been a huge part of his success.
He does most of his riding during the summer, in addition to attending a bike mechanic school in order to help his teammates keep their bikes in working condition.
His work during the summer proves to be a challenge, yet Louis maintains a positive attitude that allows him to stay motivated and ready to compete.
"When I'm at home I typically race against people who ride all year round… It's fun to go and get destroyed because it gives you motivation to [train]. [At Deerfield], it's really me and two other guys from the opposing teams in competition," Louis admitted.
During the season, his work as captain is just as challenging, if not more so than his off-season training.
"He works hard," said head coach Rich Calhoun. "His responsibility during practice, essentially, is almost equal to that of an assistant coach."
Not only does he fix bikes in the summer and help his teammates with their technique, but he also leads by example and is, by his accumulated points, the champion of the league.
So, after all of this success with cycling, what's next? Louis expressed his desire to get an exemption with two of his teammates next fall for a sport called "cyclo-cross" in order to continue their training in an entirely different milieu.
"It's basically a bunch of idiots riding around in the woods with [mountain bike tires] on road bikes. It's fun, it's crazy."
Just like Louis!