New Leadership Takes Office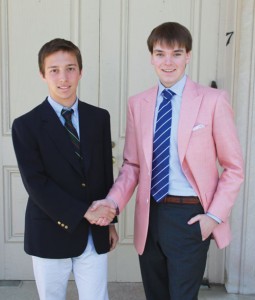 Theo Lipsky '12 and Charles Jones '12 will step up next year as student body president and student council chair, respectively.
Both are eager to start working immediately. "We already have some ideas in the works," said Jones of the council's activity now, after the transition of leadership.
The two are beginning their time in office with a proposal to donate the remainder of the council's annual budget to the Relay for Life.
"It's a really worthy cause, and we are very proud to support it," said Jones.
The decision to donate the money has yet to be voted upon. However, according to Lipsky, "at this late a stage in the term, no one has another plan for the money. The vote has no real opposition to it."
Because budget funds do not carry over between academic years, any money that has not been spent by the end of the year does not go to the council the following year.
Another initiative is the "ordering window," which would allow students to receive food deliveries at the end of study hall.
"It's still in its early stages, but Charles was very enthusiastic about the idea," said Lipsky of the proposal.
Aside from new legislation, the new council also intends to take greater advantage of the technology available to it.
"We saw how successful the online election was this year, and we want to continue to use that tool," said Jones. "One of the changes we hope to implement is the use of email to keep the community informed."
Lipsky agreed and added, "Every time a major piece of legislature comes in front of the council, an email will be sent to the entire student body to notify them. We hope that this will provoke more discussion."
Head of School Margarita Curtis looks forward to the coming year as well. "I think the student council is a good way for me to communicate with the student body as a whole," said Dr. Curtis. "My hope is that I will also have the opportunity to enhance my relationships with students as individuals.
"Through increased accessibility," Dr. Curtis continued, "I hope the council and I can involve everyone in the important decisions made on campus in a meaningful way."
To learn more, go to: http://danet.deerfield.edu/studentcouncil/