Lights, Camera, Action! Widdies 2011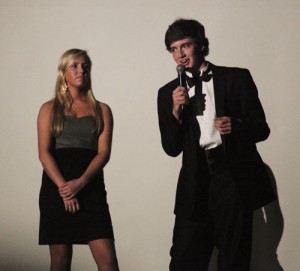 The annual student film festival and awards ceremony, the Widdies, was hosted by Mary Cherna '12 and Nolan Doyle '12 on the evening of May 14.
Antonio Andreas '11 blew viewers away with his video Welcome to the Machine, a film that included "nasty betrayal" and "brutal murder."
Andreas won the "Best Director" award, and Welcome to the Machine won the awards for Best Cinematography and Best Picture.
Aaron Cyr-Mutty '11 played an intense role in this film and won the Best Actor award.
Another popular video of the night was D.A. Punk'd, made by four students, David Buoymaster '13, Adam Ellison '13, Madyn Field '13, and Dave Keith '13.
In the video, Ted Growney '11, Alex Ward '11, Dashiell Schulte '13, Ben Turner '13, Teddy Wackerman '13, and Sidney Hulburd '14 were invited to take part in a phony admissions video and asked rather unorthodox questions.
The resulting film captured the award for Best Comedy.
Ted Growney '11 won the award for Most Angry During an Interview, and Teddy Wackerman won the Best Quote of the night: "There is no one best memory. Every memory is just remembered."
The award for Best Short went to Dave Keith '13, for his production of The Most Interesting Man, starring history teacher Michael Silipo in a beer commercial.
The award for Best Action Film went to 007 Boyden Lane directed by Nicky Rault '13.
"There was a wide variety of films, but Rault's action adventure was my favorite," said Josh Reed '13.
"It was a really fun experience making a video with so many of my friends," Rault said, commenting on the success of his video. "So many people dedicated so much time into the making of this video—not for a grade or for any credit—but just to be great friends."
In addition, Maksat Kalymgazinov '12 won the award for Best Villain in 007 Boyden Lane.
When asked about his favorite film, Woodson Miles commented, "Definitely 007. Maksat certainly deserved the Best Villain award that he received."
"I really enjoyed that night," said Ashley So '13. "There was a great variety of videos, with the perfect mixture of intensity, comedy, and artistic creativity."