A Glimpse at the Costumes of the Upcoming Spring Play: She Strives for the Sumptuous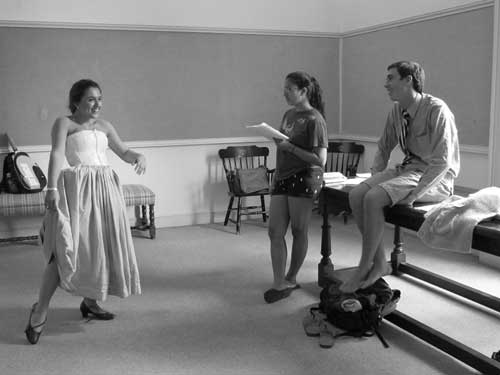 This spring's play She Stoops to Conquer unfolds in a country manor in late eighteenth-century England, a setting that demands luxury to the point of frivolity. The cast satisfies that demand with exquisite execution of language and action, but the lavish costumes selected by Emily Dunn, the talented designer who creates costumes for productions at Smith College, capture the spotlight.
"The women are really in charge in this play," Director of Theater John Reese explained. Anyone seeing the costumes knows this statement makes quite a bit of sense. The popular fashions of the eighteenth century emphasize the power of the feminine physique.
Ms. Dunn made sure that the ladies of the play follow such trends, dressing in lots of layers despite the springtime heat.
The layering begins with a lacy corset, strung tightly in the back to create a flattering small waist. Next comes the bustle: tie-on padding around the hips to help support the train of the gown and add that fashionable period curviness. After these undergarments have created the sought-after silhouette, each character slips into a petticoat, and then an outer jewel-toned lacy gown.
The male costumes are almost as lacy, and just as fabulous. On the bottom, the men will sport classic eighteenth-century britches: cropped pants made of rich velvets and corduroys embellished with pleats and shiny buttons.
On top, they layer flouncy shirts with intricate lacy collars and sleeves under vests and coats made of opulent jacquard fabrics.
These incredible ensembles will then be topped off with the dramatic style of make-up used by actors in the seventeenth and eighteenth centuries.
All of the characters will decorate their faces with playing card symbols pertinent to their circumstances. For example, the young lovers will sport hearts.
The older characters will also create milky complexions with white powder and define wrinkles with black charcoal.
Then, of course, come the wigs. The men and women will all wear different variations of stacked curls and dramatic cuts appropriate to their individual social statuses.
Twenty-seven years ago, Mr. Reese began his Deerfield career with a production of She Stoops to Conquer, ushering in an era of splendor, elegance, and success for Deerfield's theater department.
If the costumes prove anything, She Stoops to Conquer seems like a fitting way to bid farewell to Mr. Reese.