Artist of the Issue: Kelsey Janik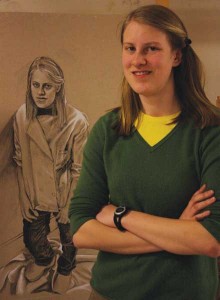 Kelsey Janik '11 "is one of the smartest young women I have met on this campus," declared French teacher and Mather resident Francoise Ellis, who has known her for almost four years.
"It is so hard to put Kelsey into words. Kelsey is Kelsey," Mrs. Ellis continued. This talented girl spends her afternoons in the art studios drawing and painting.
Janik was awarded a Richmond Scholar Award this February after applying to the University of Richmond.
"The award is a full-tuition scholarship with other benefits," explained Janik. After making it into the semi-final round, applicants submitted supplementary materials under specific designations, including art, English, and community service.
Soon after submitting the art portfolio that she created during her years here at Deerfield, Janik interviewed as a finalist on the Richmond campus over spring break.
She subsequently became a Richmond Scholar with the designation 'Artist Scholar.'
"She won it all," summed up art teacher David Dickinson.
Interested in art as a child, Janik recounted her fourth Christmas, when she received her first art set. "I was so happy, I slept with it that night! But it was a wooden box, so it was kind of uncomfortable." Her love for art has grown since then.
Janik uses a variety of materials–-from watercolor to acrylics to charcoal-–but she prefers drawing, especially still life. One of Deerfield's finest artists, Janik always has pieces included in exhibits of advanced student work in school galleries and also appears in Albany Road.
Her patience and gift for art is clear with every piece she completes.
Mr. Dickinson explained, "There are three distinct areas that help Kelsey to raise the bar in her skills: Number one, she focuses very well on detail. Number two, she has a very solid sense of what makes a good composition. And number three, she is very independent in the studio."
Arriving at Deerfield with raw potential but little training, "Kelsey is a good example of someone who has achieved a high level in a discipline that requires a lot of time and effort. And she did it in spite of the demands of all of her core subjects," said Mr. Dickinson.