With Talent and Desire, Girls' Water Polo Shoots for a Remarkable Season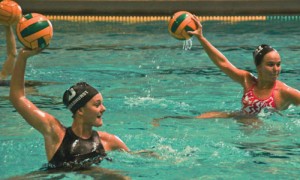 Most of Deerfield's students and faculty rejoice at the thought of being outdoors again in the spring. But for some, the spring brings another season of hard work in the pool. Such is the case for the varsity girls' water polo team, a hardworking group with both the talent and the desire to have a remarkable season.
"This year we have a very young team. We lost [with last year's graduation] four of our seven starters. However, we have a lot of new girls who are great swimmers, so it will be really exciting to see them improve and in turn improve the team," said Liza Bragg '13, a starter and second-year member of the team.
While many on the team are swimmers who converted to water polo, one new girl is a seasoned "wopo" veteran.
"Water polo in California is the equivalent to lacrosse or field hockey at Deerfield: everyone plays it. At home, people use swimming as a conditioning season for water polo, whereas here, the majority of the team is made up of swimmers learning to play water polo," explains Lizzie Jeffrey '13.
Jeffrey is new to the team, but not to the sport, and she demonstrates her skills as a starter and key contributor every game. Jeffrey explained her love for the sport and her role as a largely intuitive player: "What I like about water polo is that it's a fast game which is all about improvisation. It's not as much about plays, but more about knowing how to respond to certain guarding and thinking quickly. It is much harder to move around someone in the water than it is to run around them."
Because the team has such a solid foundation in swimming, they are able to focus primarily on water-polo-specific skill work in the water, which sets the bar higher for their season.
"Last year our team lost nineteen to three against Choate in the New England finals. This year, however, if you compare our records, we have a chance at beating them, which is really exciting because Choate has such a good program," added a hopeful Bragg.
Although a successful record is an important part of the team, it isn't everything. Accompanying the hard work displayed on the scoreboard and the many hours together in the pool, every Tuesday the team participates in community service events such as giving faculty children swim lessons.
With guidance, experience, and team dedication, the girls have much to be excited for this season.