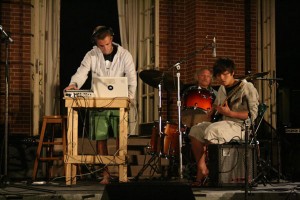 If you attended any recent dances or ever visit the DA-student-run blog soundabovetheseal.com, you are most likely familiar with dubstep.
If not, dubstep is a combination of beats, occasional vocals, and heavy drums with a deep bass born from reggae and London garage rock. Slightly less known, triphop is a pattern of hip-hop beats sans vocals, founded in England around the same time as dubstep.
This term marks one year since Deerfield seniors Aaron Cyr-Mutty '11 and Justin Kwok '11 started making music together.
Last spring, they started mixing beats and song clippings to create dubstep and triphop.
Kwok and Cyr-Mutty enjoy these two genres because they rely upon creativity and individuality.
Cyr-Mutty enthusiastically described, "Dub and triphop are pretty minimalist and, therefore, require less engineering than more mainstream genres like pop."
So, how does one actually create electronic music?
"It's a little like DJing, sort of making a mash-up of songs but instead of just using a section of the song you can use all of the parts individually," Cyr-Mutty explained. "And it's all done live, like improv," Kwok clarified.
The pair divide up the different aspects of the music making. "Kwok is in charge of the instrumentation and the guitar, and I manage the production," said Cyr-Mutty, who uses virtual synthesizers on a computer program.
"Essentially, you repeat a beat or sound and then layer other beats or parts of songs on top. Some artists use sample tracks as bases, but we just use recordings of Kwok playing the guitar," he said.
"We change up our methods all the time. Whenever either of us comes up with an idea, we just go with it," he continued.
One year from their start, the duo, officially called "The Kochmen," is getting more serious about their work.
This spring they secured an athletic exemption to work on their music in the hopes of producing a CD by the end of the year.
Cyr-Mutty confided plans of their future: "Once we have a CD done, we can send some of the songs to music blogs. If they like it, hopefully they'll post it."
"Great free publicity," Kwok interjected.
Cyr-Mutty quickly concurred, "Hopefully, it'll lead to a live gig sometime this summer!"