Imagination Without Words: Imago Theatre for Academy Event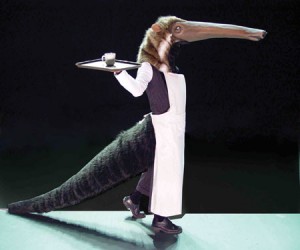 Delighting families, teenagers, and adults alike, Imago's Theatre's world-famous productions merge all aspects of performance, from acting to acrobatics, and from dancing to mime.
According to the Boston Herald, Imago Theatre is "wacky, thoroughly enchanting. New Age vaudeville mixes Cirque du Soleil-like acrobatics and Mummenschanz-style puppetry with a hip, post modern sensibility." The New York Times called the group "masters of mime, dance and acrobatics."
Spectacular costumes, lighting, effects, sounds and compelling acts of all kinds are incorporated in the company's most recent shows, including ZooZoo, Biglittlethings, and their signature piece, FROGZ.
Imago Theatre is unique in that its shows contain no dialogue and yet still manage to be enjoyable, fun, and interactive. The performers' concept is to utilize the simplest aspects of the human body, such as movement and word-free voice. Synchronized and agile, their bodies appeal to "the senses, the intellect, and the passion," according to the group's artistic director, Carol Triffle.
Members also bring ordinary, day-to-day things to life, personifying simple inanimate objects and creatures such as polar bears, paper bags, and frogs.
Founded in 1979 by directors, designers, and actors Carol Triffle and Jerry Mouawad in Portland, Oregon, Imago Theatre has won the New York Dance Film Award and Best Touring Production by Independent Reviewers of New England. Carol Triffle studied under Jacques Lecoq, and so the company's individual style was inspired Lecoq's use of gesture through melodrama, tragedy, and comedy.
As part of Imago Theatre's national tour, which includes twenty-seven different venues from Canada to Hawaii, students and faculty will have the chance to see the company's five actors perform ZooZoo, which combines FROGZ and Biglittlethings.
"Creative, clever, and sophisticated, this performance, we hope, will be a fun community event that will entertain, engage, and educate audiences of all ages," said science teacher and Academy Event Committee member David Howell.
Currently on tour, Imago Theatre will perform at Deerfield on April 12, 2011.