Shumway Brings New Spirit to Dance Program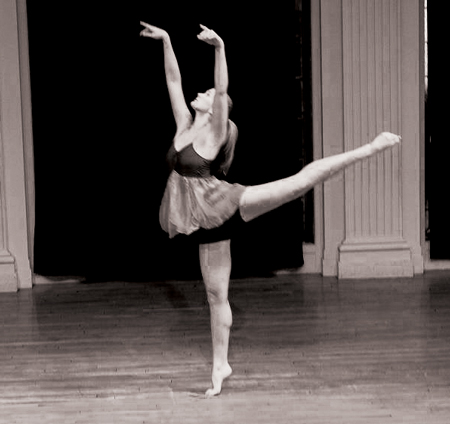 Stephanie Shumway may be a new member of the Deerfield faculty, but she is not new to the world of dance, or even the Deerfield dance program.
Asked to find a hip-hop choreographer by Fine Arts Department Chair Jennifer Whitcomb, Ingrid Kapteyn '09 recommended Ms. Shumway. That year, Ms. Shumway choreographed her first piece at Deerfield for the 2009 Winter Showcase, and has worked with Ms. Whitcomb and students on every showcase since.
Influenced by her older sister and mother—both dancers—Ms. Shumway started dancing at the age of three. By the time she was sixteen, Ms. Shumway was teaching classes of her own. Shortly thereafter she began dancing with professional dancers.
This past fall, Ms. Shumway became an official dance teacher in the co-curricular program. She teaches three classes to beginner, intermediate, and advanced level dancers covering jazz technique and hip-hop style weekly.
In addition to teaching technique and combinations to her students, Ms. Shumway makes it a priority to help her students improve their flexibility and strength.
"Everyone is always sore after Steph's classes, but we still think of them as the best classes of the week," said Flora Donovan '12. "Her excited attitude and fun combinations make our hard work well worth it."
Ms. Shumway explained, "I believe that as a dancer it is important to take good care of your body and keep it tuned up to prevent injury. That is why I workout frequently, practice Pilates, and do conditioning exercises with my students. A couple of years ago I also went through training to earn massage therapy license. I get a massage every three weeks and have noticed a huge improvement in my dancing and well-being since then."
Though a large part of her life, dance does not monopolize Ms. Shumway's time. She also enjoys photography. "I would love to have my own workspace and dark room some day, and maybe even do some more free-lance work," she commented.
When asked what other jobs she has held previously, Ms. Shumway descibed some modeling work she has done for M.A.C. Cosmetics: "I played the part of a ballerina in one of their live ad campaigns. They did some incredible make-up and I wore a beautiful costume. It reminded me of the kinds of things you see in Vogue. It was a blast."
Although challenging, her classes are always a favorite among the dancers, and her pieces are always a hit in the showcases.