From Pirouettes to Techno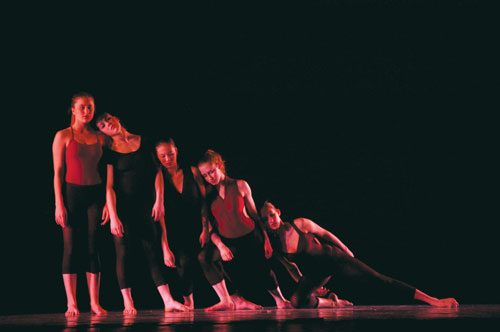 Fresh, exciting, avant-garde, and entirely student-run, the annual Student Choreography Showcase featured fifteen pieces in styles ranging from hip-hop to classical ballet to tap dance.
Fourteen dancers choreographed pieces, as did the Beginner, Intermediate, and Advanced Dance classes. Dancers included these choreographers and many other participants in the dance program, including some surprise appearances from post graduates.
The creativity and maturity of the choreography were the defining features of the showcase. For
example, Kate Fitzsimons '11 and Nina Shevzov-Zebrun '12 co-choreographed a traditional ballet to techno music.
Fitzsimons hoped to "make people reconsider the traditional aspects of ballet by putting it in a different, contemporary context." She and Shevzov-Zebrun share a background in ballet and have adopted less traditional forms of dance in recent years, so the combination of the clas- sical and the alternative inspired the piece.
As for new students, Maegen Killeen '14 choreographed a lyrical duet to "Rock Your Soul" by Elissa, which she performed with Grace Murphy '11.
Killeen said, "The lyrics in the song spoke 'connection' to me. I chose two dancers who are completely different, yet have the same passion for dance-especially on the stage." Some other notable choreographers included Caitlin Murphy '11, Alaina Belanger '12, and Ilse Kapteyn '12.
Killeen commented on the strong student leadership, noting that Chair of Fine and Performing Arts Jennifer Whitcomb "has given the responsibilities to the advanced dancers. We have produced our own rehearsal schedules and dealt with audition results."
Some dancers rehearsed ten hours weekly on top of their usual co-curricular schedules to prepare for the performance. Performances were on January 27 and 28, with an open dress rehearsal on January 26.