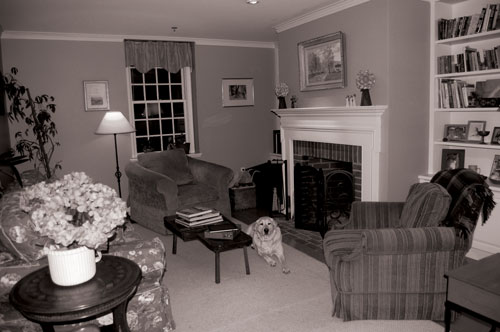 Most faculty apartments fit a similar mold: a small office, living room, kitchen, and a couple of bedrooms. In the faculty world, the massive apartment in Pocumtuck is the pinnacle of all apartments on campus.
After living on Rosenwald 1 for the past five years, science teacher Kristin Loftus and her family moved into the three-level apartment over the summer.
"Our apartment spans all three levels of Poc, with a connection on each level," said Ms. Loftus. Officially, however, Ms. Loftus is the resident for Poc 2.
Ms. Loftus's four-bedroom dojo features a working (although very smokey) fireplace, three bathrooms, and a separate television room. The second floor has its own laundry room as well as her office. Parker and Abby, her two children, live on the third floor children's haven.
"I grew up in a house where my sister and I shared the third floor. My room looked pretty much just like Abby's does," said Ms. Loftus.
However, there are a few things that the Loftuses do not like about the apartment. They would love to install noise cancelling tiles for the walls lining the stairwell to buffer the noise from the dorm.
With 18 underclassman girls and three proctors, Poc II is the largest underclassman hall on campus. Even though they have so many girls, the only common room on the hall is a repurposed single.
"My philosophy about being a dorm resident is that my apartment is always open to the students," said Ms. Loftus. "The biggest issue for our hall and me is that we cannot comfortably fit everyone inside a room for a feed."
For most weekly feeds, everyone must head to the basement common room to be together.
Before her stint in Rosenwald, Ms. Loftus and her family lived at Eaglebrook for 12 years. This is their first year on an underclassman hall. Besides the increased dorm duty and younger students, Ms. Loftus loves the proctors, her new helpers on the hall.
"It's a mutually beneficial relationship between faculty and students that enhances the boarding experience of our underclassmen," said Ms. Loftus.
For Ms. Loftus, this enormous apartment has worked very well. "I like the flexibility of being able to have the students, my advisee group, and girls from the hall into the apartment, but still have a private space for my family. We love this apartment, and love visitors! Stop by anytime!" she said.