Artist Earns "Best in Show" in Local Gallery Competition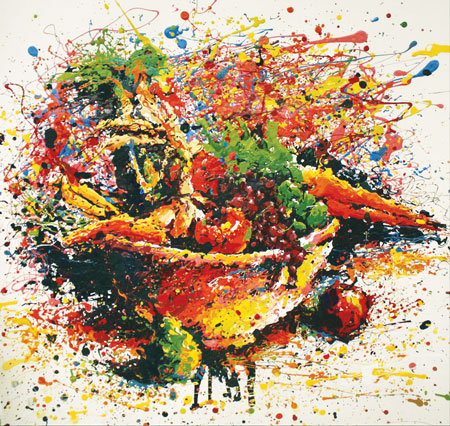 Think of it as a Choate Day for artists: a chance to show off outstanding talent and to compete against other schools. Nine Deerfield artists are currently featured in an art exhibition and competition, located at ArtSpace in Greenfield.
A community arts center, ArtSpace showcases local professional work and also offers visual art classes for children and adults. Every year, the center holds a teen art exhibition and awards prizes for different categories.
Fine Arts teacher Timothy Trelease commented on the exhibit's importance: "The annual exhibit brings teachers and students together from neighboring schools to talk about art and ideas, which is an excellent way to foster a positive community spirit."
Deerfield is submitting a charcoal self-portrait by Ariel Beauregard-Breton '11, a painting/collage by Lizzy Gregory '11, a charcoal study of a skeleton by Estelle Kim '11, a "splatter paint" still life by Becky Levy '11, and a pastel still life by Grace Murphy '11.
Photographers Alex Berner '11, Hannah Dancer '11, Ben Bolotin '12, and Porter Simmons '12 are also submitting work.
Thanks to Mr. Trelease and Fine Arts teacher David Dickinson, many Deerfield students have entered the competition in the past. In drawing, collage, and photography, students "have won top prizes and best in show consistently in the past five years," Mr. Trelease said.
Mr. Dickinson said the art department "always tries to get some work together for the exhibit as all the area schools—public and private—are invited."
Students' works will be on display from January 10 to February 26 in the ArtSpace Gallery, located at 15 Mill Street in Greenfield. The results of the competition will come out later this week.