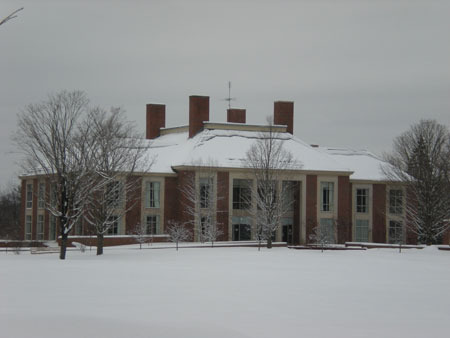 As we step outside our cozy dormitories, the frosty cold comes like an omen of a lengthy winter term. Nevertheless, these winter traditions definitely will make time fly by!
Cookies and Cocoa: On Fridays after school, everyone gathers in the lobby of the Main School Buildings to share warm treats. Scrumptious cookies are passed out by the Head of School Margarita Curtis, and hot cocoa and apple cider satisfy everyone's thirst. Make sure to bring your mug!
80's Night in the Barn: On the night of a hockey game, everyone sports neon leggings and woolly legwarmers while cheering on the team. Oh, and don't leave your room without your headband and jean jackets!
First Snow: Watch out underclassmen! Look behind you, since you don't know when an upperclassman will knock you into the snow! No need to worry too much though, it generally happens to siblings and playful proctees.
Friday Night Hockey League (FNHL): On Friday nights, friends get together and play ice hockey. Everyone plays against each other in friendly matchups, and no hockey players are allowed, so all the games will definitely be fair competition!
Snack Time: After a hard day of work in classes, the dining hall is open to provide us with snacks before we head off to our co-curriculars. Bagels, cereal, hot cocoa, and desserts are to be indulged before everyone heads off to practice!
Christmas Dinner: Before we head back home for the holidays, all of us enjoy an appetizing dinner, which includes beef wellington, eggnog, and the ever so sugary baked alaska!
Head of School Day: Lucky for us, Head of School Margarita Curtis recognizes the seemingly endless term and rewards us with a day free of classes. Look out for this day, because it can never be predicted when it will happen!
However, some old traditions won't be returning this year. The favorite dress down Fridays are not going to take place this year, which was a sad parting for many students and faculty.