Young Talent to Lead Girls' Skiing Down the Slopes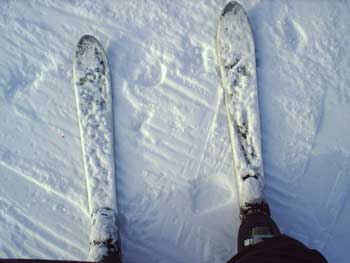 The Big Green girls' ski racing team is poised to become a powerhouse this year as it adds a host of experienced newcomers to an already talented squad. Annika Trapness '13, Kate French '14, and Lauren Stobierski '14 will join captains Annie Eldred '11 and Charlotte McLaughry '11, along with Beth Lawless '12, Marly Morgus '12, and Rachel Gibson '11 on the Berkshire East slopes this season.
Before coming to Deerfield, Trapness split her time between Hong Kong and Vail, Colorado, where she attended the Vail Ski and Snowboard Academy. In Colorado, Trapness trained each morning during the week from 7:00-1:30, and for the entire day during the weekend if she was not competing. "We were practically away every weekend between January 1and March 31," she said.
Trapness also competed in International Ski Federation (FIS) and United Ski and Snowboard Association (USSA) races in Colorado, which she plans on continuing this winter in Vermont and Maine. In addition, this summer, Trapness trained and raced for two weeks in Valle Nevado, Chile.
"I just want to go out and ski the best I can and give every run and every race everything I've got," Trapness said, explaining her goals for the season.
French, from Chappaqua, New York, trained at a ski academy as well, the Killington Mountain School in Vermont. There, she trained each weekday from 1 to 3:30 and all day on the weekends, competing every Sunday and during some weekdays. For the past two summers, French spent sixteen days skiing with her KMS team in the French Alps.
Here at Deerfield, French looks to race USSA and FIS during weekends. The Deerfield team will be "the first time I will be racing as a team and not as an individual, which sounds really fun," French said. "My main goal for the season is to have fun and create close relationships with everyone on the team, and of course to win!"
Stobierski, hailing from South Deerfield, has skied in the Mountain Institute Ski League for three years. But Stobierski competed in the boys' section of this league, as she went to Eaglebrook and raced for its ski team. Last year she helped the team to a third-place finish in the league, directly behind the Deerfield boys' varsity squad. Male racers usually clock results significantly faster than girls, so while skiing with the boys, Stobierski was often hot on the heels of the top girls' finishers. "At first when I started, I was intimidated by the boys but then I realized if I worked hard I could beat them," Stobierski explained.
"Racing with boys for three years really helped me improve my skiing. They pushed me every day to be better. I truly credit my aggressive and fast style to the boys who taught me."
Stobierski has spent five summers skiing in Mt. Hood, Oregon, and will join French and Trapness racing USSA and FIS this winter. "Since I'm a freshman and new to the ski team, I just want to have fun and ski fast," Stobierski said.
The team can also rely on its hardworking members from last year, who captured the MISL title and notched an impressive collection of individual victories. Lawless won all six league races, going undefeated to win the league's Amy Spenser cup, and she placed 6th in both the slalom and giant slalom events at the New England Championships.
Lawless also competes in USSA races, and attended a weeklong ski camp over Thanksgiving break in Vail. Morgus, who proudly calls Sun Valley home, found success last season as well, taking 3rd in the league and 13th in the championships. Lawless and Morgus also traveled together to Mt. Hood this summer for a ski camp, and both achieved all-New England status their freshman year. Meanwhile, Eldred, McLaughry, and Gibson scored valuable team points in each race and took 9th, 10th, and 12th in the league respectively.
Captain McLaughry summed up the optimism and high hopes for the Deerfield team. "Our girls' team is really deep this year. Based on our past results and based on the talent of a lot of the new skiers I think we have a great shot at New Englands this year. I love the team already—it just rocks!"
The team plans to aim high at the New England championships in February, which will be jointly hosted by St. Paul's School and Belmont Hill School.