Get a "Little" Taste of Geology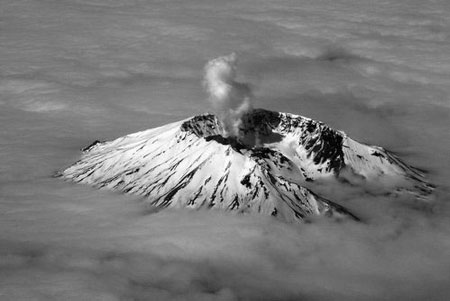 It is not often that teachers allow their students to lick the material they're studying. But pupils in geology teacher Richard Little's 5th and 6th period classes have done just that.
Mr. Little joins the Deerfield faculty this year from Greenfield Community College where he worked for 40 years before temporarily retiring in January of 2004. His hiatus was short lived. His friend and fellow Deerfield science teacher, Andrew Harcourt, told him about a need for a geology teacher at Deerfield.
At Greenfield Community College Mr. Little taught three-hour classes that met twice a week. He acknowledged that the different class structure was difficult to adapt to at Deerfield.
"I could lecture and get them prepared for a lab," he said. "It provided more time to interact with the students in a more serious and academic way. Forty-five minutes flies by."
In addition to teaching, Mr. Little has been kept busy with Earth View, the company he started 30 years ago. The program takes groups of 16-20 people all around the world on geology-centered tours.
His previous trips include visits to Alaska, California, Hawaii, Yellowstone National Park, and recently, Iceland. His first exploration in 1980 brought 35 people to see Mt. Saint Helens volcano in Washington just months after its eruption.
It was Mr. Little's own interest in the volcano that planted the seed for Earth View. "I was in my early thirties, with two kids, and I wanted to see Mt. Saint Helens," he recalled. "I realized others probably wanted to as well, and who better to show them than someone who specializes in that field." And so Earth View formed.
"[My travels have] given me experiences to bring back to the classroom," he said. Indeed, his experience with Earth View only adds to the knowledge he brings with his master's degree from the University of Southern California. He is also an inductee into the Massachusetts Science Educator Hall of Fame in 2004 and the author of Dinosaurs, Dunes, and Drifting Continents: the Geohistory of the Connecticut Valley.
Before his career took shape, Mr. Little was a freshman at Clark University needing a class to fill a free slot. His advisor suggested he take a course in something he knew nothing about and he chose geology. After a field trip to Pennsylvania to view rock layers he was hooked.
"I knew I had to go on to grad school in this subject… . I decided that this was the field I would specialize in," explained Mr. Little. The simple catalyst for his love of geology was "the recognition that there is great meaning in rocks and landscapes."
So as for his rumored rock licking? "It's not recommended," he assured me. "It's just to test for minerals, specifically salt." While perhaps a little unorthodox, it's the unique experiments and experiences that make Mr. Little a great resource for students looking to get a taste of geology.
Sources:earthview.pair.com