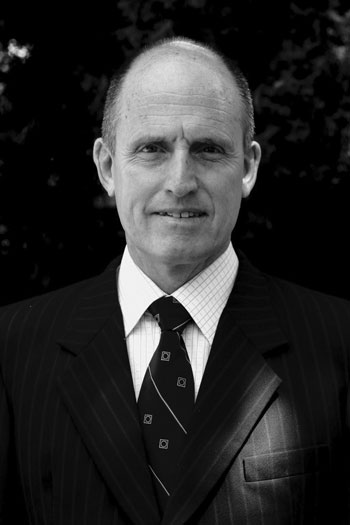 While Trevor McKinlay, this year's Wilson Fellow, may not be a household name, nearly all at Deerfield would recognize the visiting teacher's animated expressions and thick Kiwi accent. Though he only joined the faculty this fall, Mr. McKinlay has been in contact with teachers and students from Deerfield for the last several years in a very special way.
As the headmaster of the Wanganui Collegiate School in New Zealand, Mr. McKinlay left a tremendous legacy by making the school co-educational after 137 years as an all-boys' school. Mr. McKinlay explained that he broke tradition in 1990 (a year after Deerfield returned to co-education) because "it was a co-ed world, and the ideas of gender equality had become too persistent to be ignored."
He strongly believes that new experiences are essential tools for learning. Even as an adolescent, he was curious about the world, joining New Zealand's version of the Peace Corps for a year straight out of high school.
Continuing with his theme of exploration, Mr. McKinlay left his homeland in 2001 and took the post of head of school of Markhan College in Peru. A high school for over 2,000 day students, Markhan had recently turned co-educational, and fittingly sought Mr. McKinlay.
In 2007, however, a devastating earthquake struck Peru and greatly damaged Markhan. Representing Markhan at a Round Square conference in India, Mr. McKinlay asked the seventy schools for assistance. Eleven schools, most notably Deerfield, sent teachers and students to Peru. Mr. McKinlay stated, "I had big respect for Deerfield, and I still do, even more now!"
After Mr. McKinlay returned to New Zealand to see his grandchildren and to spend time with his family, his good friend Associate Head of School John Taylor finally convinced him to accept a fellowship at Deerfield Academy.
Mr. McKinlay, along with his wife Jackie, resides in the Little Brown House. He teaches sophomore and senior English classes, and serves as faculty advisor to six underclassmen boys. On coming to campus, Mr. McKinlay said, "I have been warmly received, and I hope I have returned the feelings."
On his first impression, he said, "Students at Deerfield have great pride in their school," as he adjusted his new Deerfield tie.
His advisees in Scaife are all astounded by how frequently he attends their sporting events. Kevin Fleishman '14 proudly remembers soccer games in which his advisor was the only fan on the sidelines. Another advisee, Quinn Morris '14, joked that while on duty as a hall associate Mr. McKinlay "can be pretty tough on parietals rules."
The two freshmen love their advisor for his "always light-hearted and humorous nature," as Morris put it. Fleishman added, "He's very down-to-earth and easy to talk to. He understands kids, so he can have intelligent conversations while still being quite funny."
Mr. McKinlay suggests that students and faculty alike travel, learn different cultures and languages, and experience the world from different perspectives. He believes that having a global mind is key to being a successful leader. "Why is this such a big thing for me? Because it's what I did," said Mr. McKinlay.