Kager Signs to Play D-1 Hoops at American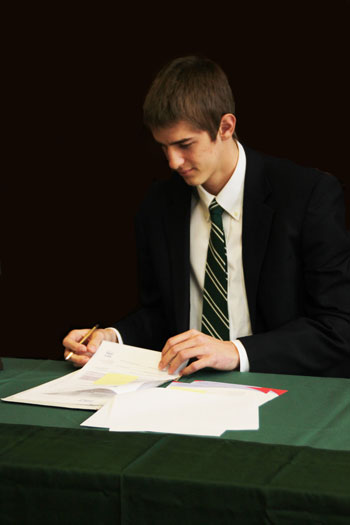 Boys' basketball co-captain Kyle Kager '11 did not pick up a basketball until he was ten years old, but through hard work and lots of practice he has become one of the leaders and best players on the Deerfield boys' basketball team, and one of the top talents in New England.
On November 10th, 2010, Kager officially signed to attend and play Division I basketball at American University.
The signing took place in the new conference room located next to the Greer Store, and in attendance were his father, Robert Kager, a couple of Kager's close friends, his advisor David Howell and wife Sigrid Howell, Mr. Pitcher, and Athletic Director Charles Davis.
"Kyle is a unique talent. He has the size of a forward or center, but has the speed, shot, and ball handling skills of a guard," said head coach Conrad Pitcher.
For Kager, basketball was not always something he excelled at, and he was not always such a skilled player. But through hard work, sometimes ten hours of it a day, he has transformed himself.
Kager not only plays competitive basketball at Deerfield, but he also plays in the Amateur Athletic Union (AAU) Summer League. AAU basketball is the most competitive high school summer league, and Kager was heavily recruited after playing in the AAU league.
"My coach, Coach Houston, really believed in me and played me in a lot in games," said Kager. "After having a great AAU season, I was starting to be heavily recruited."
Mr. Pitcher agreed, saying that the AAU league "gave [Kager] much exposure with college coaches."
This season, Kager has big ambitions for Deerfield's team and is very excited for it to get underway. He and fellow captains Jimmy Bitter '11 and Andrew Sutphin '11, are hoping to build off of last year's 11-11 record.
"To start with, we have a lot of chemistry from last year," said Kager. "There is also great new talent, so I can't wait to get this season started."
Mr. Pitcher is equally excited for the basketball season. "We will be small, with the exception of Kyle, but I think we are going to be fast, tough and smart. There is no doubt that we will compete hard in a very challenging league."