Shakespearean Sophomores Wrestle With Othello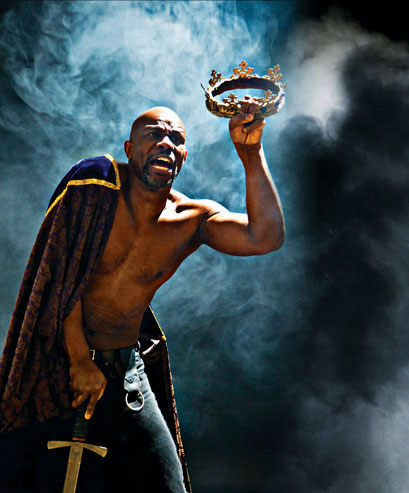 Poignant, monumental, and restless, at age forty-seven, John Douglas Thompson is consid­ered one of the greatest actors of his generation.
When English teacher Joel Thomas-Adams saw Mr. Thompson perform, he decided to contact him about coming to Deerfield. Mr. Thompson was intrigued and excited to interact with younger people.
"Spending time with a sea­soned actor can yield tremendous insights about the plays that mere reading can never give," said Mr. Thomas-Adams.
Mr. Thompson's late January visit corresponds with the entire sophomore class's reading of Othello.
Born in England with a Jamai­can background, Mr. Thompson grew up in Montreal, Canada. While at college in New York, he studied marketing and business, and then he worked as a salesman for a computer company.
He started acting relatively late in life and was not even a regular playgoer, but he fell in love with theater after seeing Joe Turner's Come and Gone by August Wilson. Mesmerized and blown away by the performance, he decided at that moment that he wanted to act.
When Mr. Thompson lost his job as a salesman a few years later, he saw the misfortune as an opportunity to follow his passion for acting and theater.
After successfully trying out for some roles, Mr. Thompson started his formal acting training at age twenty-nine at the Trinity Repertory Conservatory in Prov­idence, Rhode Island. Involved with Shakespeare and Company, his career as an actor had begun.
In 2005, Mr. Thompson de­buted on Broadway as Flavius in Julius Caesar, with Denzel Wash­ington playing the role of Brutus.
Mr. Thompson starred in Shakespeare's Othello and in Eu­gene O'Neill's The Emperor Jones in 2009. These off-Broadway roles of Othello and Brutus Jones brought him much acclaim and established his presence in the world of acting.
This past summer, he starred in Richard III and this fall, he per­formed the role of Antony in Shakespeare's Antony and Cleopa­tra opposite Star Trek's Kate Mulgrew at the Hartford Stage, and in February he will perform Macbeth at Theatre for a New Au­dience.
For his earlier role as Othel­lo, Mr. Thompson received an OBIE Award and a Lucille Lor­tel Award. He was nominated for a Lucille Lortel Award and a Drama Desk Award for his per­formance in The Emperor Jones. The New York Times said of him, "There may be no better classical actor working in the New York Theatre right now."
On the opposite spectrum of acting, he has appeared on televi­sion shows such as Law & Order and Conviction. He was also in a short film called Midway and in the movie Michael Clayton.
Just as Mr. Thompson saw his layoff as an opportunity to grow, his arrival to Deerfield is our opportunity to learn about the world of acting.
Shakespeare has a strong pres­ence in our curriculum; however, Shakespeare's works must be heard and seen, not only read. With greater depth, acting allows his plays to become natural and accessible to everyone.
Mr. Thompson is scheduled to give a combined lecture/performance open to the entire school community in the Black Box Theater on January 20.
He will conduct acting work­shops with all the sophomores during Friday's classes.