Girls' Squash Swings Toward Domination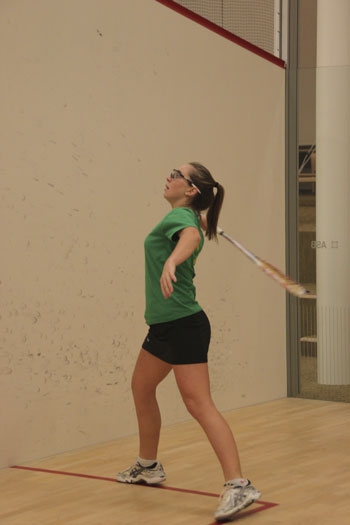 Most teams aim for a winning record, a spot in the New England tournament, and a fun season. But the Deerfield girl's squash team sets the bar much higher—they plan on complete and utter domination.
"Our ladder is stacked with so many skilled players that it will be hard for many teams to beat us, so our goals are winning New Englands and placing top 5 at National's," shared Nina Kempner '11, who has been on the team since her freshman year.
These goals may seem lofty and overly ambitious to some, but for those who know the girls' squash team, these goals are very obtainable.
The majority of the girls play squash over the summer, and many have also already been attending long, intense practices several times a week on top of playing another sport this fall, just to get back into shape for the season.
Last season, the girls finished third in New England, and, with new and extremely talented additions to the team, Addie Fulton '14 and Hunter Sechrest '13, they plan to finish first this year.
"Our team this year has so much depth, which is what sets us apart from other teams. The new girls are all so much fun and so talented, and it is really important that we build a strong young team because next year we are losing so many seniors. Everyone is just so upbeat and excited for the season. We all want to win New Englands so badly; it will definitely make everyone work even harder," said Emily Jones '13, a sophomore who played in the number three spot on the team last year.
And work hard they must if they want to take the New England title from GA, who has won that and the national title for as long as most can remember, and also just recently narrowly defeated the girls 4-3.
Adds a determined Charlotte Dewey '11, who is a co-captain this season and is a four year team member, "Something that is really going to help us this year is that our whole team is very equal in skill, which will be great in practices because we will be able to challenge each other. It also means our ladder is very interchangeable which is an awesome quality for a squash team to have."
Coach Karinne Heise agreed with Dewey in saying, "I think to achieve those goals we need to emphasize team performance—by recognizing that individual matches are important because they contribute to the team score. Individual players need to strive for excellence to promote the team effort and team excellence."
Neither Dewey nor Kempner can believe that this is their fourth and final year on the team, and Dewey concludes, "I'm so excited for this team and to do well. I think we're going to have such a great season, and that will make it a perfect way to end all of the other seniors and my Deerfield squash careers."
Ms. Heise described a remarkably strong group of seniors to lead the way. "I'm counting on all of the seniors to be great role models and provide support for all of their younger teammates." With a large group of excited and skilled underclassmen to follow, it seems as if this final season for the girls of 2011 could very well be their most successful ever.