'Tis the Season to Dance Ballet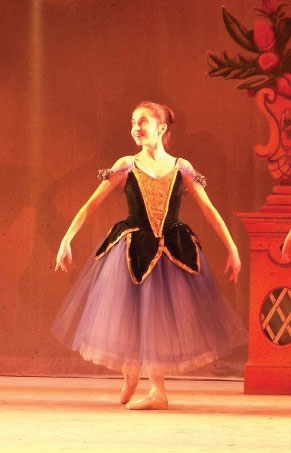 Sugarplum fairies, fake snow, and candy cane dancers. What would the holiday season be without The Nutcracker? With the advent of the holiday season, The Academy of Music in Northampton performed The Nutcracker ballet, starring Alaina Belanger '12, member of the Deerfield Advanced Dance Ensemble.
For many classically trained dancers, The Nutracker is an annual event and a highlight of their year. "Performing in The Nutcracker is something I've done since I was cast as a reindeer at five years old," Belanger recalled, now dancing in the show for her eleventh year.
After so many years, it has become a defining aspect of the holiday season to Belanger, who said, "My first two years at Deerfield I didn't perform in the Nutcracker, and the holidays just didn't seem the same."
Aside from the graceful Pioneer Valley ballerinas, the creative sets brought The Nutcracker world to life. Belanger raved about the scenery and special effects: "In the battle scene there is a growing Christmas tree and a cannon blast. I also get to dance out from underneath the dragon in the Chinese scene.
"But my favorite scene is Snow. It has realistic looking snow, and that sets the mood for the dance. Even if my feet are burning from dancing on point for hours, I can't help but smile when I see the snow start to fall."
Behind the curtain, dancers dedicated much time and effort to the production. In fact, Belanger dedicated eight hours weekly in the span of two days each week. She admitted the schedule was rigorous, explaining, "I had Nutcracker rehearsals from 6:00-8:00 on Friday nights and 9:00 a.m.-4:00 p.m. on Saturdays. Balancing all those rehearsals and school work was a challenge, but it was definitely worth it when I first waltzed onto the stage."
The dancer opened up about her love for the performance. "Something about hearing the music of The Nutcracker is always exciting to me. I am almost positive I could hum the entire ballet and never get sick of it. It's always the best way to get into the holiday spirit," Belanger said. Her commitment and passion certainly showed in her outstanding performance!
This was the thirty-second year the Pioneer Valley Ballet brought the timeless, dream-like Christmas tale to life through classical ballet. This year's performances lasted from December 10th to December 12th.