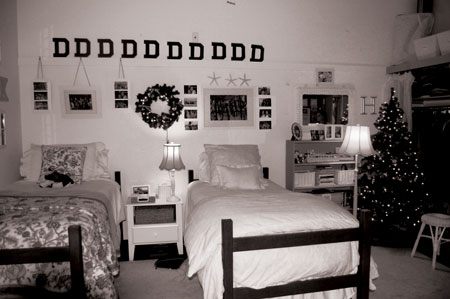 Shumway III is a cozy hall housing just six girls living in two triples. In one of these rooms, seniors Hannah Broadhurst, Olivia Koufakis, and Rosemary Straut have made themselves a home away from home.
Upon entering the room, one immediately notices that its occupants are well-organized and cleanly. Shoes are parked at the door, to preserve the expansive white rug. Inside, Broadhurst vacuums the floor and Koufakis puts away some stray books. The room is pristine.
In leftmost corner, Straut's white and blue bed lies alongside a large window framed by thin white curtains. A framed photo of Lil' Wayne hangs proudly at the foot of her bed. The picture has a turquoise border. In fact, everything in the room has turquoise accents. In decorating the room, Broadhurst said, "We only had one requirement: there had to be turquoise." Koufakis corrected her saying she preferred to call the color "blue crush."
Koufakis' bed is in the opposite corner. She has a different bedspread but the same signature blue accents. Most notably, her initials are spelled out in bold, blue, wooden blocks on the wall. The bed next to hers belongs to Broadhurst, who adds to the theme with her light blue and white bedspread.
Along one wall, there are two desks (Broadhurst likes to work on the floor), each with one closed laptop atop the otherwise uncluttered surface. On the shelves above the desks there are many framed pictures of friends and family. But these aren't the only pictures. There are fourteen white frames in the room, all containing photographs. Hung alongside the pictures is a white wicker framed mirror, adding to the relaxed, vacation feel.
Also on the wall is a Christmas wreath. The roommates have been extravagant in preparing for the holiday season. In one corner of the room, a five-foot, fully decorated Christmas tree stands proudly.
While this may seem to be a dorm room straight out of PB Teen, Koufakis admitted, "When we first found out we would be in a triple, we were skeptical. But it actually works really well!" Broadhurst added, "We all have noise-canceling headphones, which helps."
The roommates also acknowledged that Victoria Hollo '11, who lives downstairs, has become like a fourth roommate. Koufakis said, "After curfew, a lot of people come up here to hang out."
It is easy to see why room 302 is the popular place to be—a stylish oasis from the cold days of winter.