Bigs and Littles Work Together in an Art Exhibit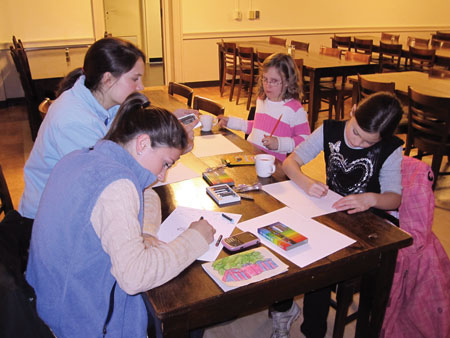 The reunion of upperclassmen "Bigs" with their "Littles" through Deerfield's Big Brothers/Big Sisters program has a new addition. Now, along with the traditional BBBS activities, such as Pool Night and Game Night, Estelle Kim '11 is leading a series of art classes, now part of the Friday evening repertoire.
During this course, Bigs and Littles can select from a variety of art materials, ranging from watercolors to colored pencils, and create pieces together that reflect aspects of the BBBS program. At the end of the course, the artwork will be on display in the Hilson Gallery.
Although Kim has only taught a few classes so far, she is pleased about the number of Bigs and Littles that have come. A number of factors inspired her to initiate the program, but Kim said the classes, "are a combination of a thank you to the Littles and a way to emphasize that their art should be exhibited." Especially impressive are the collaborative projects, in which Bigs and Littles contributed to the same piece of artwork.
The project attempts to "build up the confidence of the Littles and get them to recognize their own talent," explained Kim. In the next class, Kim plans to re-emphasize the importance of creating pieces that relate to BBBS in hope of inspiring Bigs and Littles to meditate on their personal experiences in the program.
Whether the Little's are skilled in art, creative thinking, or even friendship-forming, the program will reward the Littles' talent. Overall, Kim hopes to inspire participants to "recognize the goal of the project: to get rid of the 'I'm-not-good-enough' attitude, and to recognize their true potential."