Voices from Iraq Take the Stage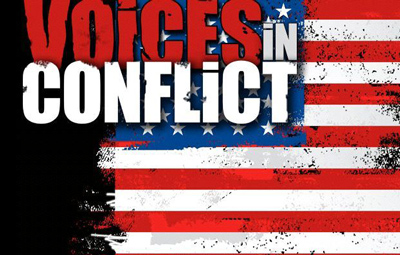 This winter, a different kind of theater production will take the Deerfield stage. Voices In Conflict is a play about the Iraq war and the soldiers fighting in it. A series of monologues work together to give a glimpse of the sacrifices these men and women make every day, but how this play came to be is a story all its own.
The students at Wilton High School in Wilton, Connecticut, were used to putting on classic performances like West Side Story or The Crucible. However, in 2007 the advanced theater class decided to write their own play and were interested in pursuing something special: a play focused on the Iraq war.
Together, they collected reflections from actual soldiers fighting in the Middle East. Through diary entries, letters to home, essays, and correspondences with the soldiers themselves, the student gathered information to model each character after a specific soldier.
The play focuses, in part, on a letter from a 2005 Wilton High School graduate, a casualty of the Iraq war who was well known and loved on campus. The news of his death devastated the student body.
The students worked tirelessly for months, attempting to be unbiased and true to the soldiers' experiences.
However, when opening night finally arrived, the school principal cancelled the show. While he had initially consented, he said the show had become too politically imbalanced and sensational.
Though disheartening, the show's cancellation turned out to be a hidden blessing. Citing issues of censorship and calling for free speech, the story of Voices in Conflict and its cancellation appeared in The New York Times.
Subsequently, a few theaters in New York and Connecticut offered to house the show.
Deerfield will perform the show in the winter term.
For sources, please contact the writer.