A Mile In Somebody Else's Shoes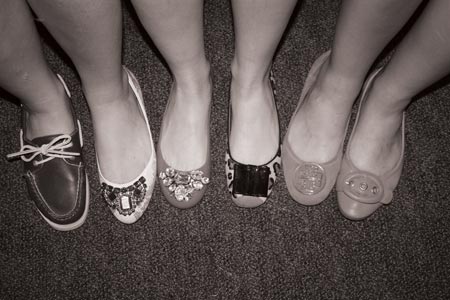 What can you discover about six members of the Deerfield community from their shoes?
Casey Butler '13 declared she has twenty-eight pairs of shoes in total. She wore a pair of black J. Crew rain boots dotted with bright little yellow umbrellas. "I'm ready for anything… I have a pair of shoes for every occasion," Butler said with a smile.
Trevor Anderson-Salo '12 is the proud owner of two pairs. He sported Brook's trail running footwear, expressing his love of nature. He elaborated, "It was either these or dress shoes, and dress shoes are just painful."
Thomas Earle '12, who was clad in a pair of mahogany Sperry penny loafers, said they spoke to the fact that, "I have class but I like to chill." He favors his loafers for their good looks and comfortable features.
Kay Calloway '14 likes going barefoot. Not only does she feel restricted by footwear, but she also just likes to be different. "[My favorite shoes] are snazzy, blue, striped, thigh high, fuzzy knee socks," she said.
Math teacher Wayne Marge sported a pair of brown L.L. Bean shoes, but isn't sure how many other pairs he owns; he quipped, "More than one." When asked how his shoes described him, he replied, "Well, I hope they don't." And this simple statement says enough.
Shoes not only express one's personality, but also offer insight as to where the owner calls home. Aymeric Georges-Picot '12 sported stylish navy Bensimons, popular French tennis shoes. He said he brought 15 pairs from France "to represent his hometown [at Deerfield]."
When you next see a student in Frye boots or Tory Burch flats, ask what they're really saying.