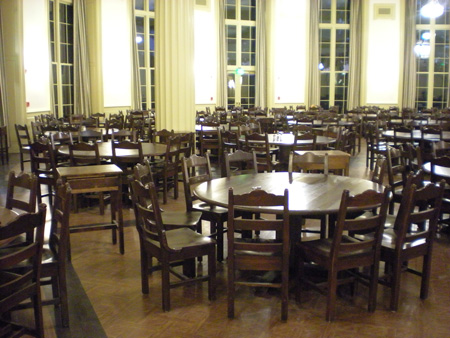 My current sit-down table is made up of wonderful students and an amusing faculty member who engages us in conversation, and I enjoy meals enormously.
At the same time, I have already been assigned to this table once this year with two of the same people. The online rotation declared our first waiter to be a male day student with a broken collarbone.
Last time around, I was one of two girls at my table. Other tables have similar gender imbalances, first- and second-waiting confusion, including back-to-back (and sometimes, back-to-back-to-back) waiting assignments, and student table heads. What has happened to the dining hall?
The answer is simple. Mr. Morsman doesn't do the rotations anymore, a fact that single-handedly defeats the point of sit-down, confuses almost the entire school, and kills a wonderful tradition.
I have a great table, but I also have managed this when sitting with students whom I have never met before.
I enjoy meeting new faculty whom I don't get a chance to meet in the classroom. As I see it, one of the major aims of sit-down is to get to know other students you otherwise would not interact with, and to have a diverse experience. Without these original tables, we are losing a vital part of sit-down meals.
Mr. Morsman was a personal Deerfield link in the system of assigning tables, making sure rotations were fair to waiters, boys, girls, day students, and boarders. Mr. Morsman-controlled rotations also gave sit-down meals flavor, instead of a random assignment. Tales of exes assigned to the same table, along with other memorable things such as a table composed entirely of redheads, dubbed "the ginger table," were all Mr. Morsman's handiwork.
We pride ourselves on our tight-knit, well-acquainted community. Sit-down meals, Mr. Morsman-style, are undoubtedly vital to these school traits of tradition and community. As Audrey Cho '11 put it, "Deerfield is a school that values tradition, and Mr. Morsman himself embodies tradition."
Ms. Futter has undeniably done a great job so far coordinating tables with the computer. But she has the added stress of assigning APs, dealing with weekend slips, and much more. How about we give her a break?
Mr. Morsman added wit and panache to the table rotations. He still makes the announcements during meals; why not make the rotations, too?