We Live It, Yet We Love It: Modern Family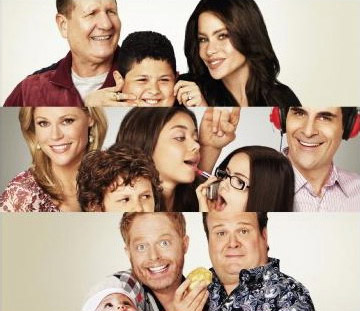 Every family has its ups and downs, and the families in Modern Family, the 2010 Primetime Emmy Award Winner for Outstanding Comedy Series, are no exceptions. The sitcom by Christopher Lloyd and Steven Levitan premiered last year and has since been a great success.
Tim Goodman said in The San Francisco Chronicle, "In a fall season surprisingly flush with good sitcoms, the best new comedy by far—and it's not that close of a race—is Modern Family on ABC."
Winner of BuddyTV's Top Ten Best Comedy Shows of 2009-2010 and second place winner of Time Magazine's Top Ten Best shows of 2009, the show enjoys unparalleled popularity.
What caused its success? How did its ratings surpass those of Glee, Ryan Murphy's hit musical and dramatic comedy?
Casey Butler '13 appreciates its realistic humor: "It has become so popular because it is funny and relatable. I like it because it's my kind of humor," she said.
The show incorporates something for everyone according to Devinne Cullinane '14, who said, "The humor of three diverse families in their day-to-day lives is easy to relate to." Caitlin Murphy '11 agreed: "Aspects of the families remind me of my own family!"
The humanity and individuality of each family reflects various cultures and truths within our society.
For example, one character is married to a Colombian woman about half his age, and together they raise her son.
Another part of the family is a gay couple who adopts a Vietnamese baby, reflecting the "trendiness" of adoption today.
The third family includes a husband, wife, and three teen/preteen children.
The series explores humor, family, teenage stereotypes, diversity, and acceptance, depicting universal aspects of family life while maintaining uniqueness.
Entertainment Weekly's Ken Tucker summed it up by stating, "Modern Family works because it does something the network sitcom hasn't managed in years: It offers a comic equation for almost every audience segment, while never blanding out the characters for mass consumption."