DA Cribz: Velasco and Kalymgazinov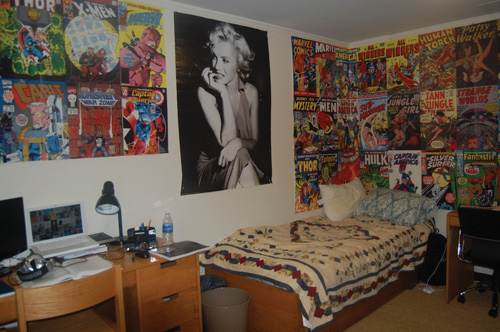 Roommates Alfonso Velasco '11 and Maksat Kalymgazinov '12 make decisions together and finish each other's sentences. Together, they have created a comic-book-themed paradise in their room on Doubleday 1.
Last spring, Velasco and Kalymgazinov entered the housing lottery together. They got a lucky draw and their first choice room. When they returned to school this year, they were ready to deck out their new abode with everything they could think of.
The walls are adorned with Marvel Comics wallpaper, donated at the end of last year by Paul Pascuicco '10. This decoration is the highlight of the space.
"The wallpaper is fireproof and laminated, and features Captain America, the Fantastic Four, and anyone else you could think of," said Kalymgazinov.
"It's just missing us two!" added Velasco.
Velasco and Kalymgazinov set up this room to utilize as much floor space as possible. Dark, straw-colored carpets over the installed carpet make the room feel homey.
Their bedding reveals important aspects of their personalities—Velasco, ever the joker, chose white bedding with chickens on the bottom. Kalymgazinov, on the other hand, shows his more serious side with a geometrically patterned comforter in beige, grey, and white.
The beds, desks, and a special green table line the edges of the room. The table has an Xbox set up with an accompanying monitor.
"We ended up deciding on green over pink for the table. It's going to be pink for Valentine's Day though. Spring will be yellow, of course," confided Kalymgazinov.
This attention to detail is a definite mark of the pair's commitment to the double and of their strong friendship. These two friends are perfect for the doubling lifestyle.
"We have a very similar routine: do work, relax, and then sleep. Maksat does take a lot of naps though," joked Velasco.
"We dress the same, sleep at the same time, and pretty much do everything similarly," said Kalymgazinov.
Velasco and Kalymgazinov expressed their dismay over the lack of visitors in their "parietal-friendly" room.
"Our room looks great. We made tons of floor space, and there is so much to do," said Kalymgazinov.
As Velasco put it, "Great room, great guys. What more can you ask for?"